Galerie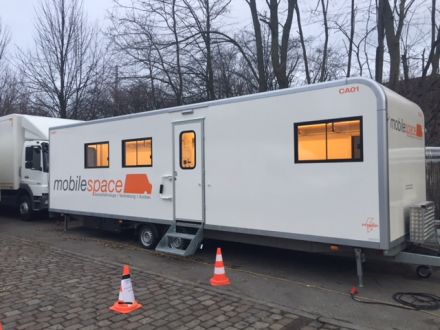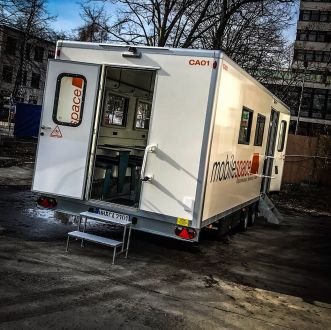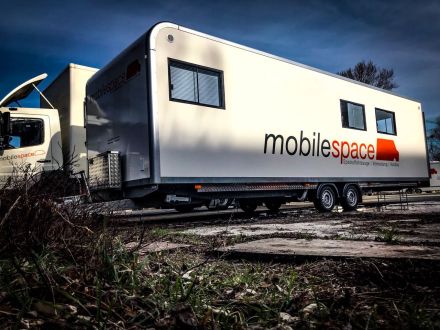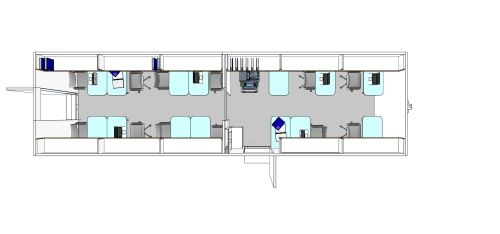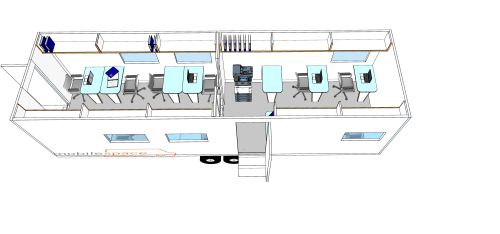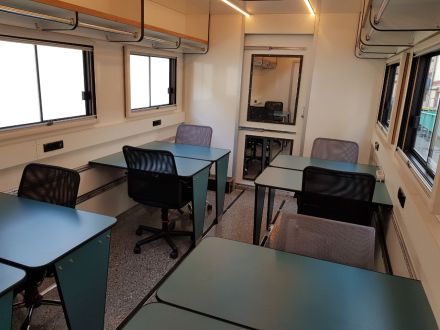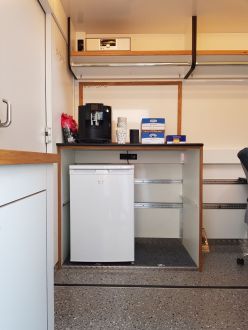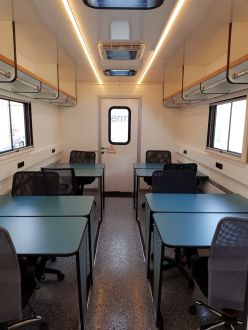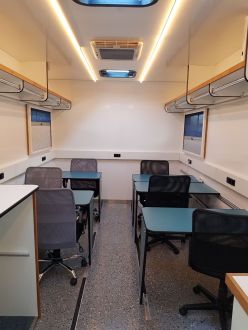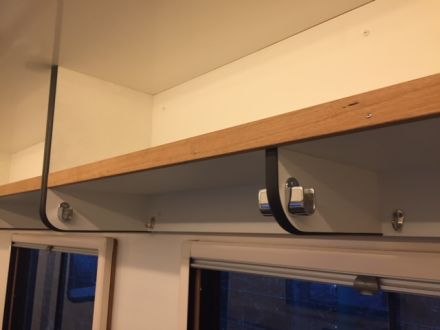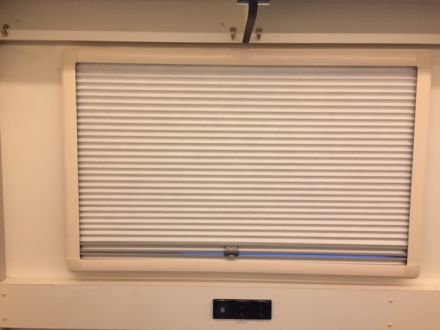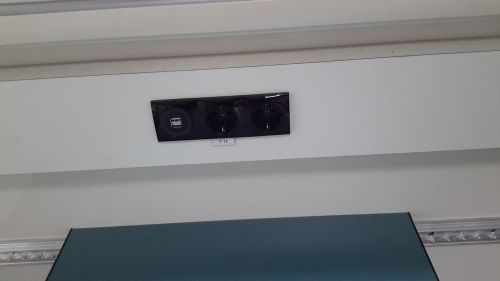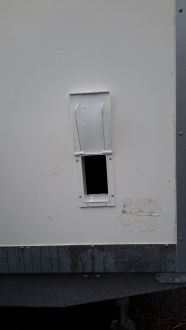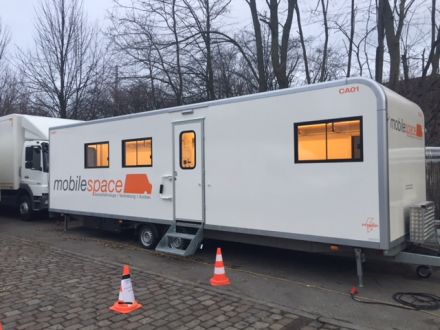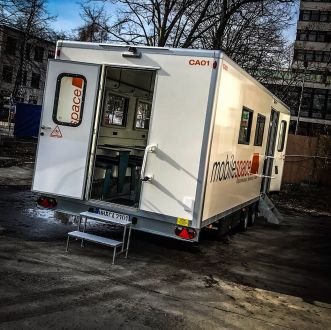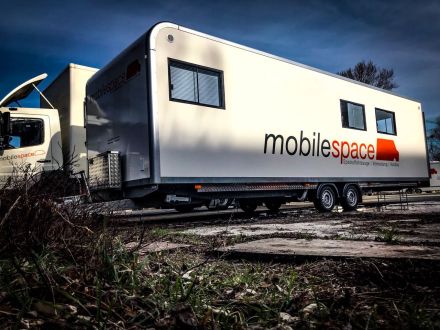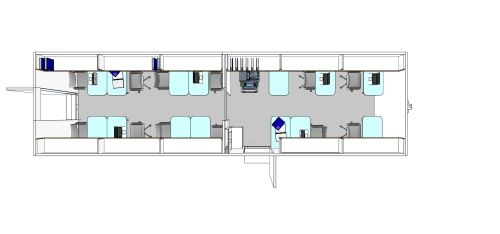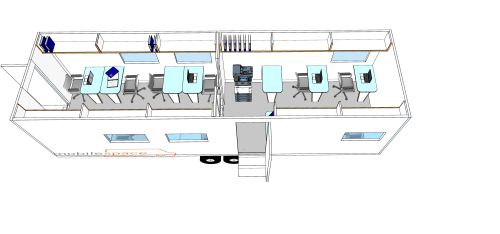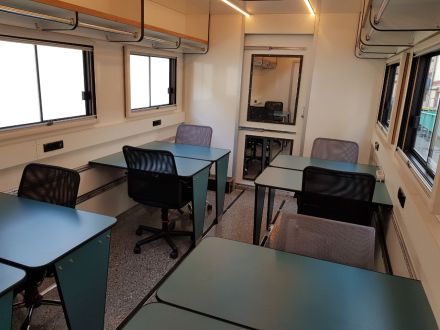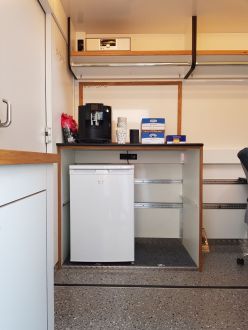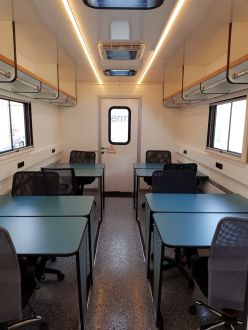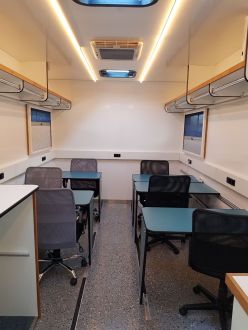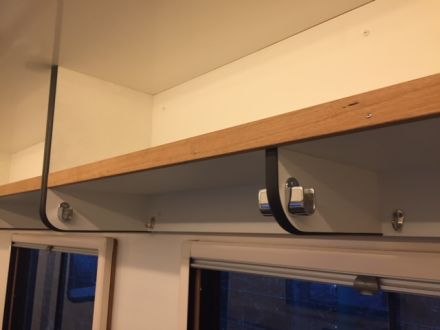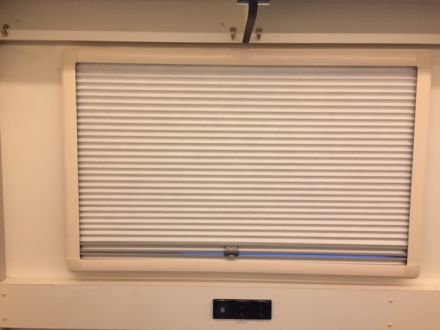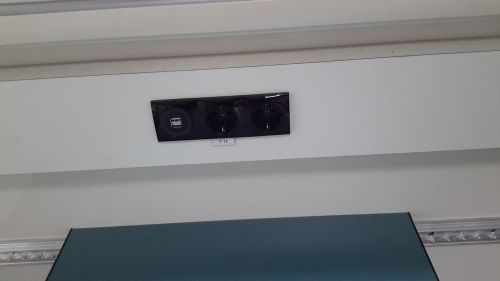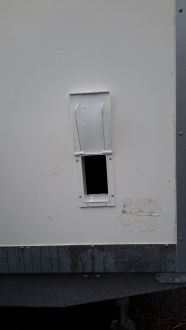 Vehicle group example images
Bü9 Production Office Trailer
The jumbo trailer - 12 workstations
Info
Our Production Office Trailer BÜ9 offers you many options to adjust the number and arrangement of workstations exactly to your needs.
In the standard version, the BÜ9 has a total of 12 workstations, divided into two large rooms, each with its own entrance and a sliding door in the middle of the trailer. In the middle part of the trailer, you have enough space to mount a printer of your choice. Our technicians will be happy to do this for you.
By the way: In the newest version of this trailer, the BÜ9 Solar, you can even mount additional partition walls with sliding doors to create five separate rooms.
Each workstation is equipped with a small table, power outlets and USB ports, a shelf for folders or personal items, and an office chair. The LED interior lighting can be set to cold or warm light, depending on the desired work atmosphere.
A powerful diesel auxiliary heater and the large on-board battery allow the vehicle to operate without a power connection for at least six hours. And if it's really cold, you can preheat the trailer with a timer - even before anyone is on set.
As soon as the BÜ9 is plugged in, the underfloor heating switches on. So even your feet get warm, and snow dries away quickly. The two powerful roof air conditioners can be set individually for each room.
Please note that this trailer with a total length of over ten meters and a total weight of about three tons may only be operated by experienced drivers. Our set trucks T5 and T6 or our Pick-up W3 are suitable as towing vehicles. If you don't have anyone who can drive, we will of course deliver the trailer to you, set it up, and pick it up again at the end of the shooting.
Technical info
Technische Daten zum Fahrzeug
⦁ Diesel Standheizung (Das Mobil wird warm auch ohne Stromanschluss)
⦁ 12V Bordnetz (Licht, Usb Steckdosen, sowie die Standheizung können 8h autark vom Stromnetz betrieben werden)
⦁ elektrische Fußbodenheizung
⦁ Ablageflächen über jeder Sitzgruppe
⦁ Steckdosen (Schuko und Usb) an jeder Sitzgruppe / Arbeitsplatz
⦁ Trennwand mit Schiebetür in der Mitte des Anhängers. Dadurch 2 voneinender abtrennbare Räume mit eigenem Eingang.
⦁ Klimaanlage für jeden Raum
⦁ Pkw Kugelkopfkupplung bis 3,0 T
⦁ Led-Beleuchtung kann zwischen kalt und warmweiß gewählt werden.
⦁ Multifunktionale Einbauten, können mit wenig Aufwand aus oder umgebaut werden.
⦁ 2x Staukisten unter dem Anhänger für Werkzeug und Einbauteile
⦁ 6 x Schiebefenster mit Innenrollos und Fliegengitter.
⦁ 4x Dachfenster  
⦁ 16 A Drehstromanschluss. Nur Ca. 5Kwh Strombedarf.
⦁ lichtstarke Led-Umfeldbeleuchtung
Fahrzeugabmessungen:
Außenabmessung = Länge 10,3 m; Breite: 2,55 m; Höhe 3.2 m
Innenabmessung  = Länge 9,0m; Breite  2,4m; Höhe2,2 m
Features
InnenausstattungBüromobil Bü9:
⦁ Serviceklappen zum Einführen von Kabeln
⦁ 2 große Räume die mit einer Schiebetür voneinander getrennt werden können.
⦁ modulare Aufteilung der Arbeitsplätze möglich
⦁ Ablagefächer für Aktenordner, Taschen oä.
⦁ Stellplatz für großen Standdrucker (wird Kundenseitig gestellt und von uns montiert)
⦁ 1x Schuko Steckdose und 2x Usb Steckdose pro
⦁ Arbeitsplatz.Radio mit Usb & Aux In.