Galerie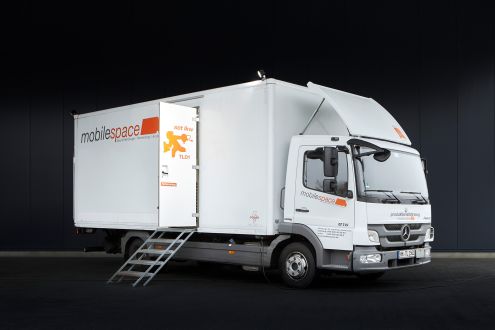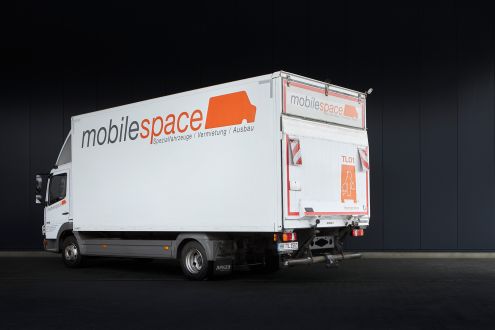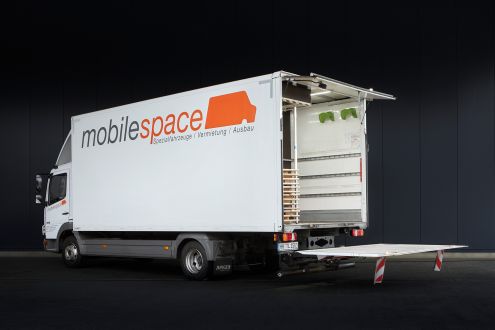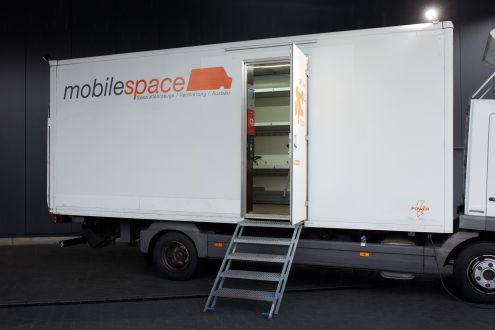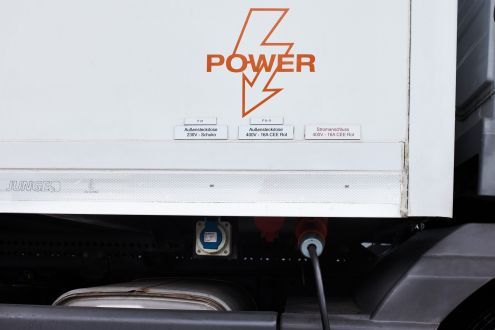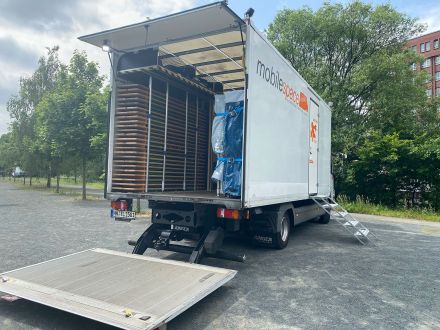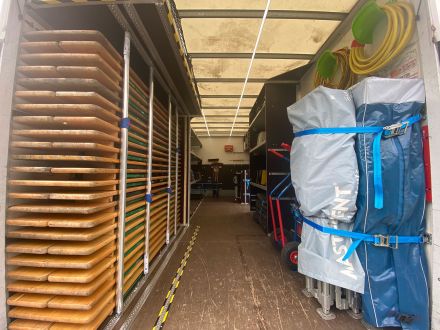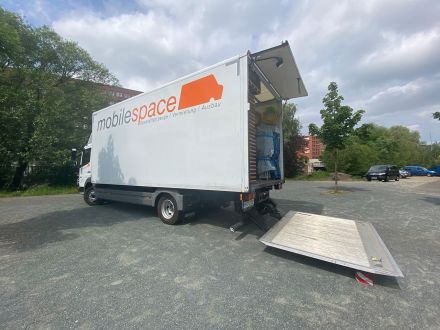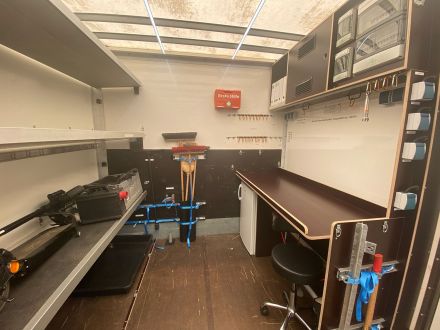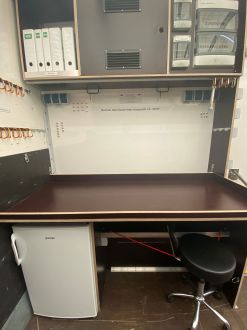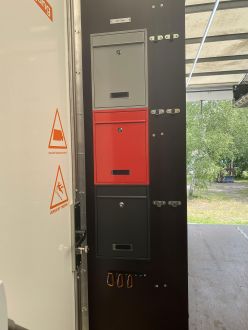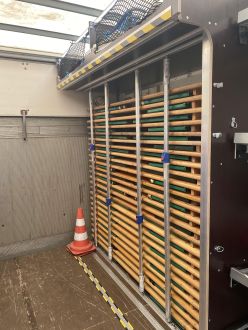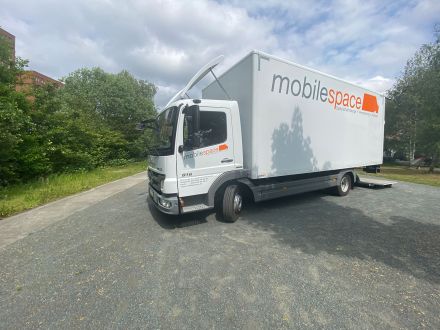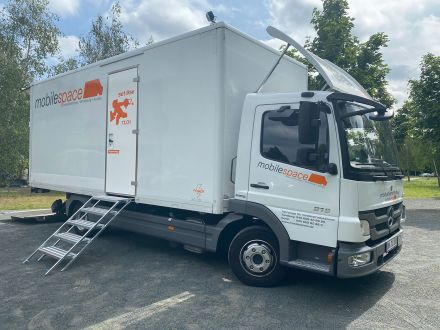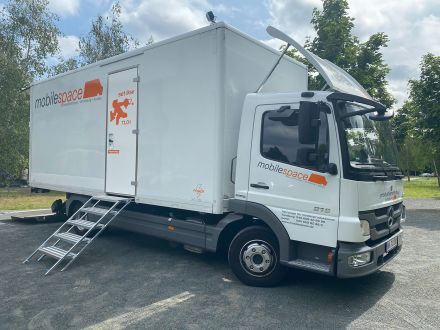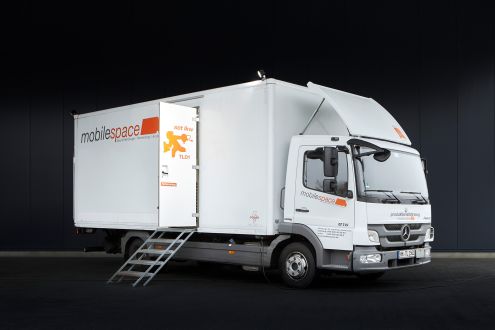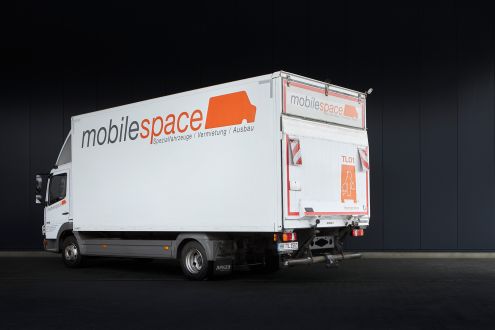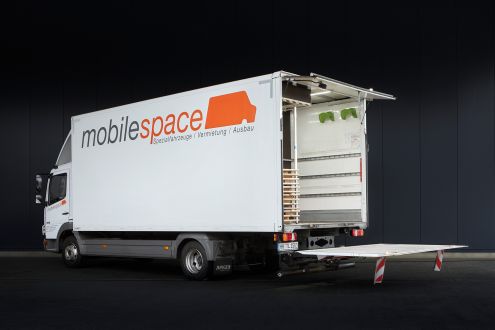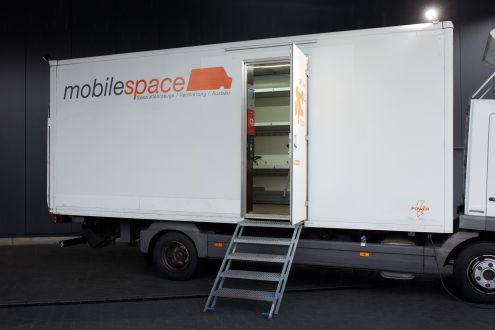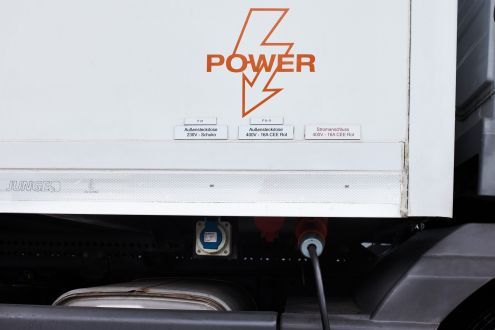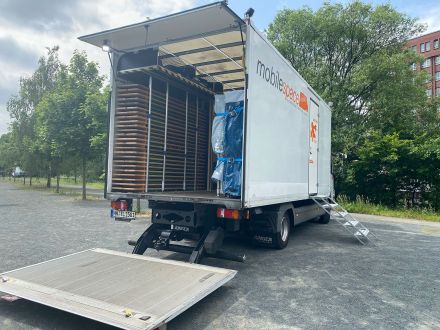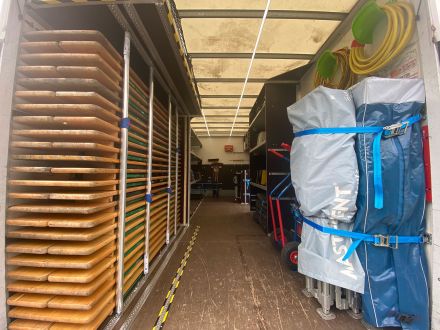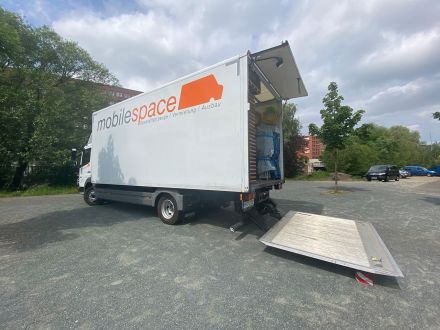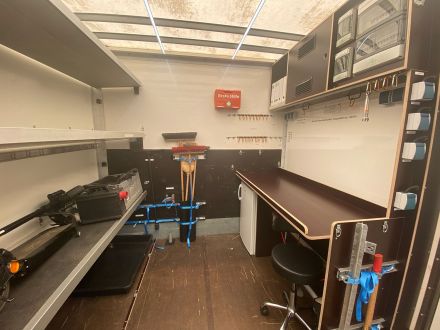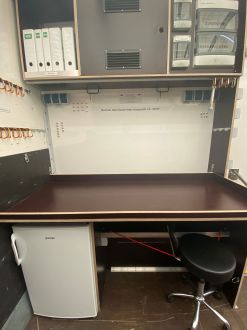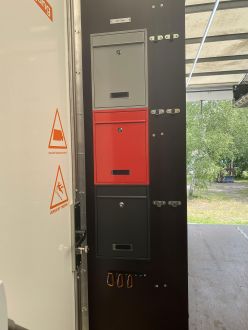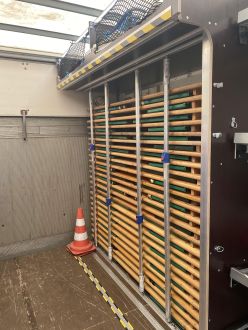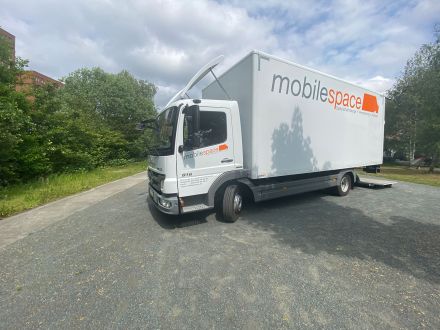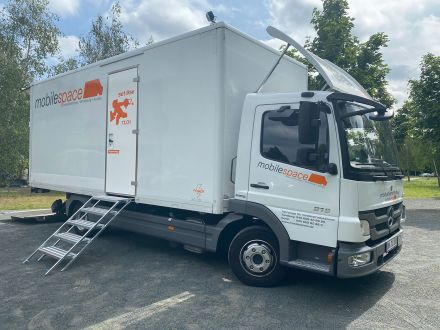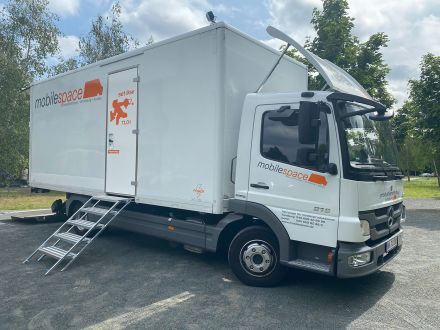 Vehicle group example images
T6 Set Truck
Far beyond standard: The perfect set storage with workspace.
Info
Who comes first and goes last? The production management! They are the cornerstone of a reliable film production. So when we designed the T6, we did everything we could to meet the needs of the production management team - especially for larger film projects.
If we had to sum up the T6 in just one phrase, it would be "carefully planned": Everything has its perfect place here. There are individual mounting options for tents, ale-bench sets and pylons; there is a floor drain for wet dirt trapper mats, and gas cylinders can be transported securely and with ventilation from the outside. And of course, in addition to a small workstation, there is also a refrigerator if you want to have a chilled after-work beer.
The heart of this truck is the very large battery, which not only supplies the interior and exterior lighting, but also provides power outlets when the generator on the set is already turned off. Here, for example, camera batteries or radios can be recharged reliably overnight without you having to drag them to your hotel.
In addition to the large rear opening with tail lift, we have also installed a side door with stairs so that the vehicle can be used as a workspace without having to open or close the tail lift.
To ensure that not only the vehicle but also the surrounding area is brightly lit at night, we have installed very powerful surrounding lights.
Thanks to the 3.5-ton trailer hitch, you can use the T5 as a towing vehicle for all our trailers.
Technical info
technische Daten zum Set-LKW Typ T6
Mercedes LKW Atego 816
zulässiges Gesamtgewicht bis 7,5t - Führerscheinklasse min. C1 (Klasse 3)
Zuladung 1,7t
Anhängerkupplung mit 3,5T Anhängelast 
Eingang zum Laderaum durch Seitentür mit ausziehbarer Treppe und über die Ladebordwand
1x Fahrersitz, 2x Beifahrersitz
Fahrzeugaussenabmessungen des LKW:
lang= 7,85 m ; breit 2,55 m ; hoch 3,55 m
 
Als Zugfahrzeug geeignet für lange Anhänger!
Features
Ausstattung Set-LKW Typ T6
Ladebordwand
autarkes Service-Batterie-System durch einen integrierten Wechselrichter mit 4kWh Kapazität der 6 Steckdosen mit max 1200W /5A versoregen kann
Regalsystem mit Klappfunktion
Arbeitsplatz/Werkbank
Kühlschrank
Briefkästen
Schlüsselbrett
Magnetwand
12 V Innenbeleuchtung
Systemhalterung für bis zu 12 Biertsichgarnituren, flexibel in der Breite (60 bis 80 cm)
viel Stauraum
Scheinwerfer zur Umfeldbeleuchtung
Rental info
Mietinformation - Kurzübersicht
Bitte beachten sie auch unsere akuellen AGB - alle Preise netto zzgl. 19% MwSt!
alle Fahrzeuge sind eigenversichert, die Selbstbeteiligung pro Schaden beträgt 1500,- €
eine Reduzierung der Selbstbeteiligung bis 0,- € ist möglich, Preise auf Anfrage
pro Fahrzeug wird eine Servicepauschale von 100,- € für Reinigung, Einweisung und Verbrauchsstoffe berechnet
Anlieferungen und Abholungen sind während der Geschäftszeiten Mo. bis Fr. von 8:00 bis 19:00 Uhr möglich
für alle Serviceleistungen außerhalb der Geschäftszeiten wird ein Aufschlag von mind. 50% berechnet
alle Mietpreise gelten ab Standort Hamburg oder Berlin. Zustellung und Abholung werden gesondert berechnet
bei verspäteter Rückgabe von Mietzubehör wird dieses unverzüglich in voller Höhe berechnet
für die Rückgabe von nicht voll getankten Mobilen berechnen wir 25,- € zuzüglich Kraftstoffkosten
für die Weiterleitung von Strafzetteln berechnen wir 25,- € / Strafzettel
für unsere Servicetechniker berechnen wir 85,- € / Std.
pro Miettag sind 150 Km frei, jeder weitere Km wird mit 0,22 € /Km berechnet
eine Reservierung von Fahrzeugen kann erst erfolgen, wenn uns das schriftlich bestätigte Angebot vorliegt
bei Rücktritt von einem abgeschlossenen Mietvertrag können Stornokosten entstehen. Kosten siehe AGB
für Kurzanmietungen (1-4 Tage) und Neukunden gilt: Bezahlung per Vorkasse, Bar oder EC Karte bei Abholung