Galerie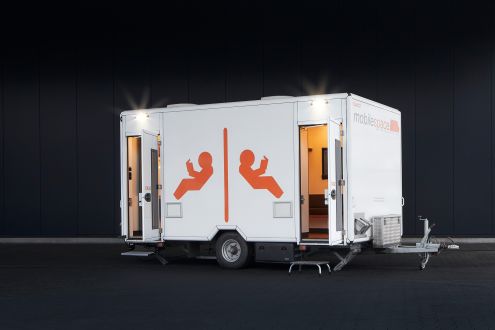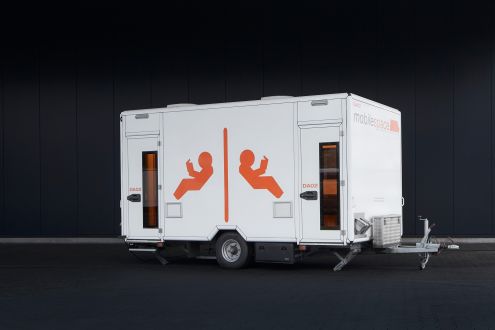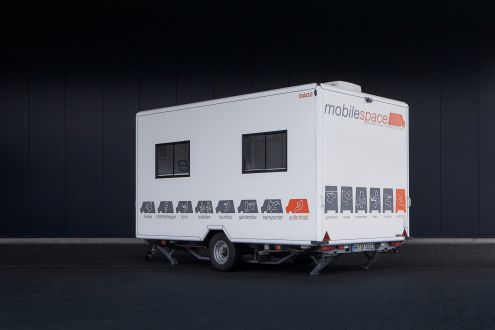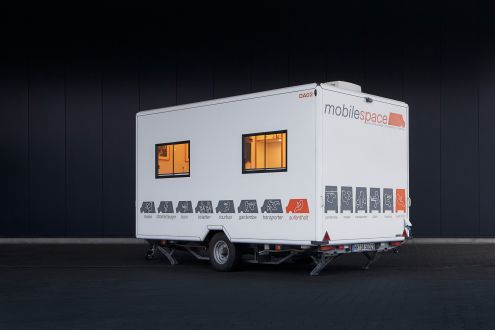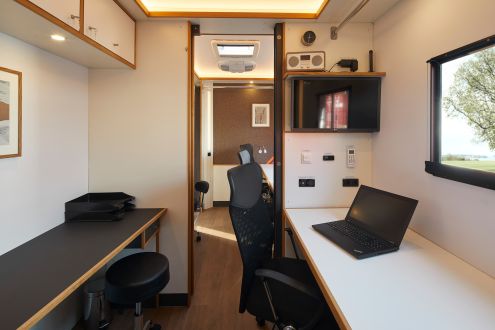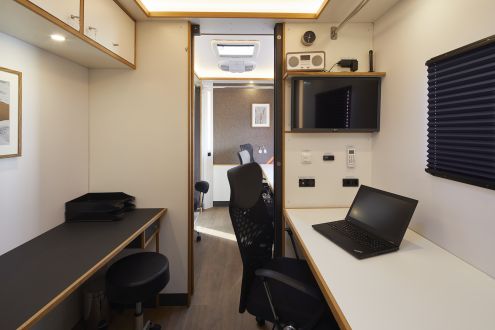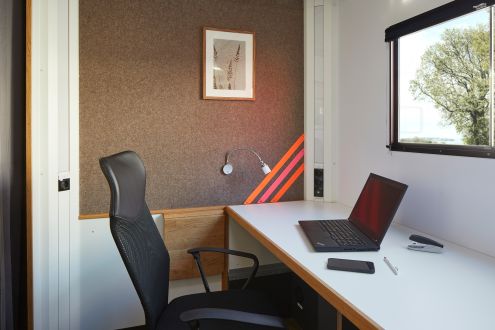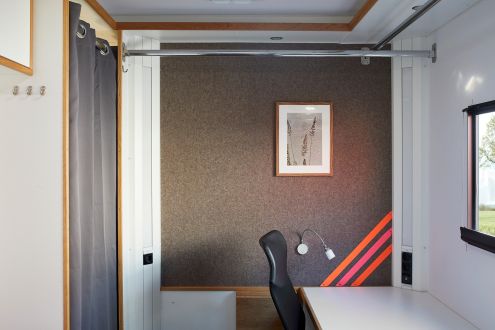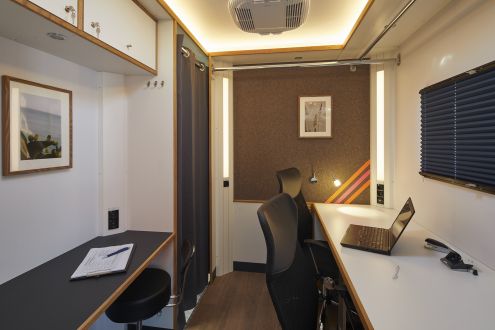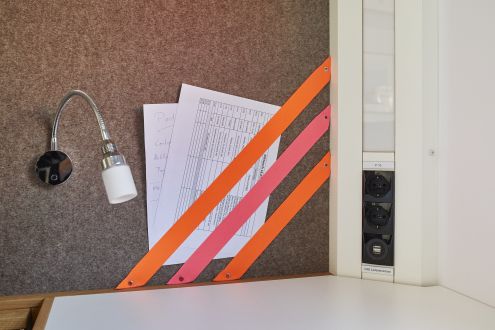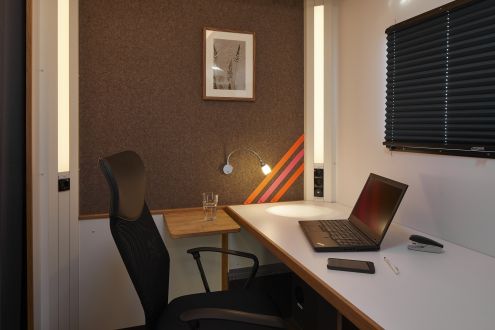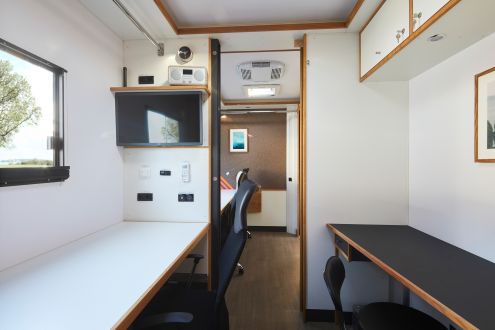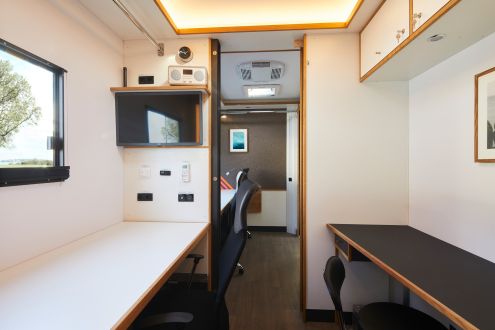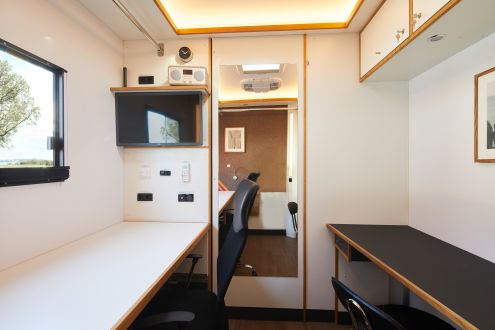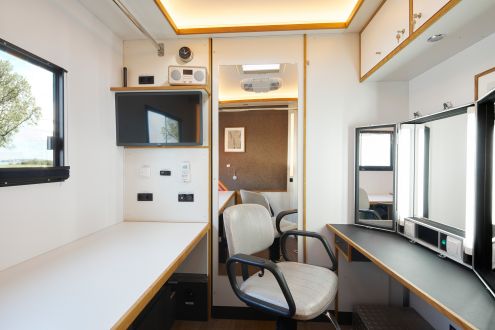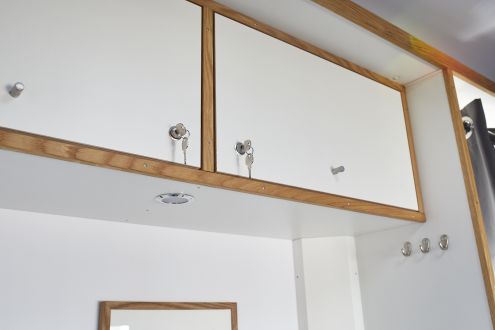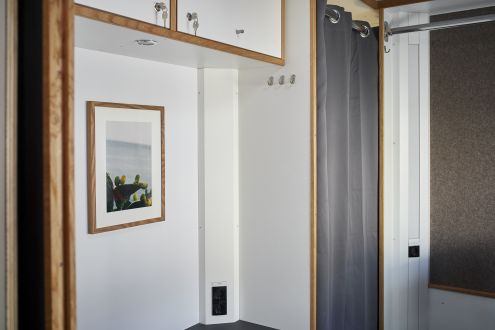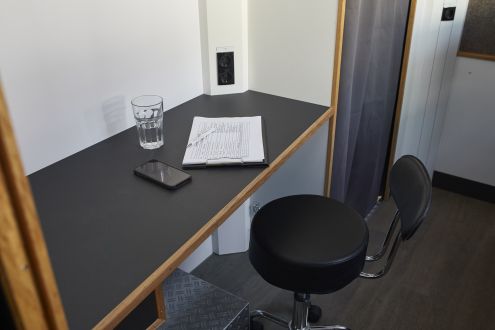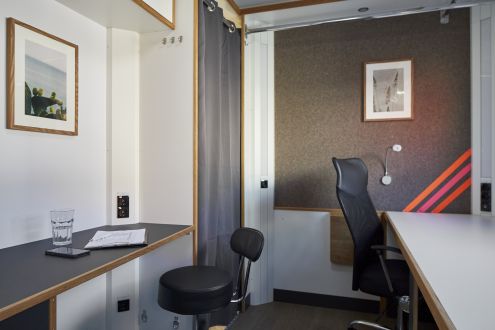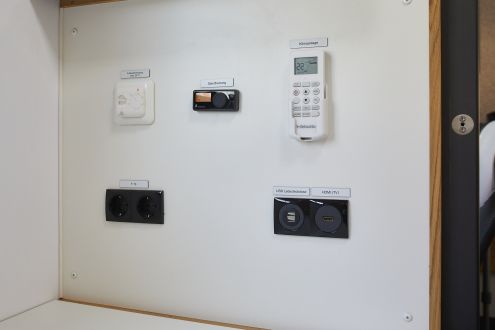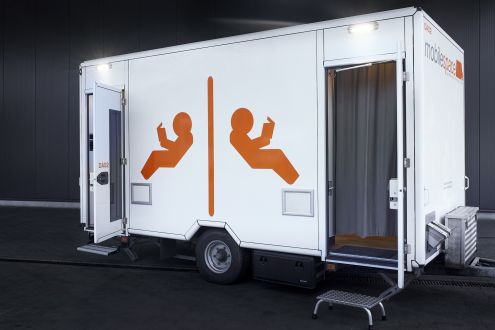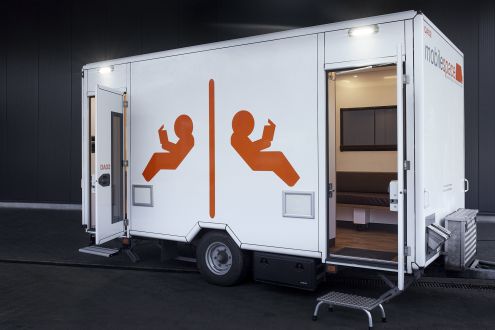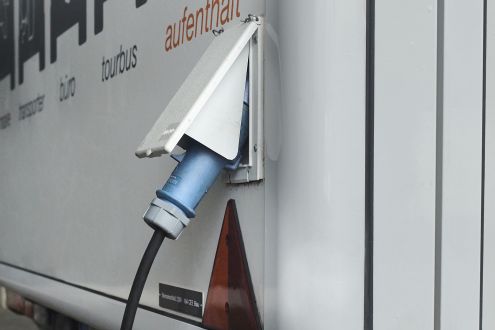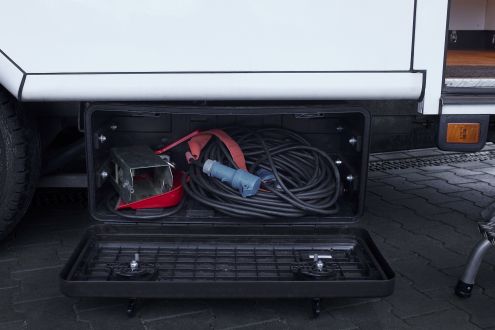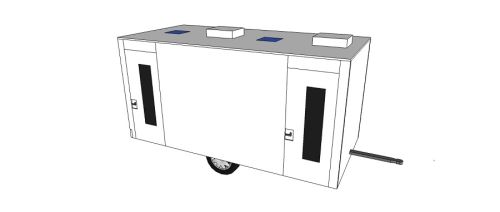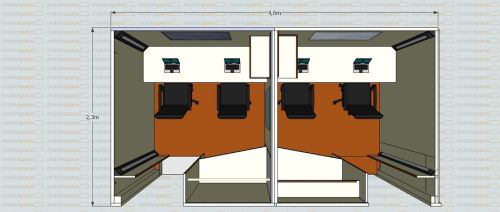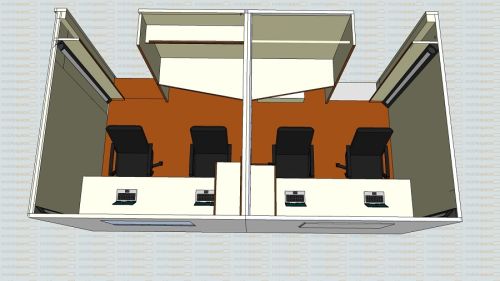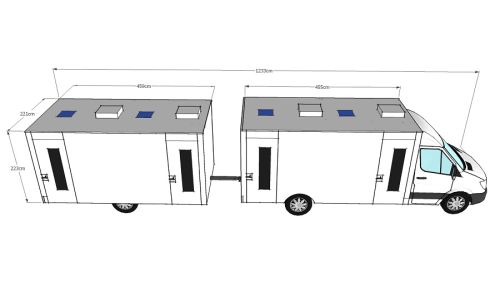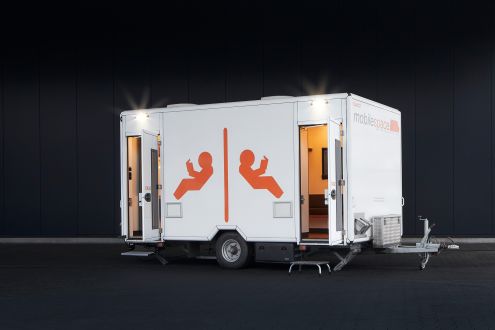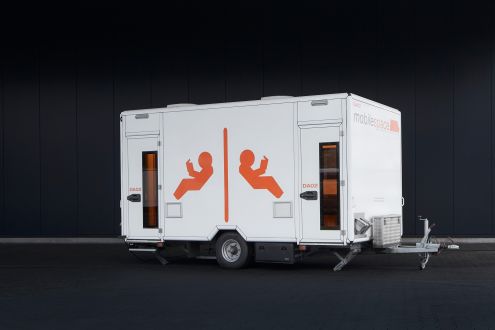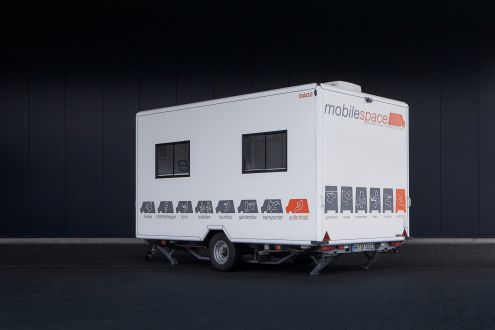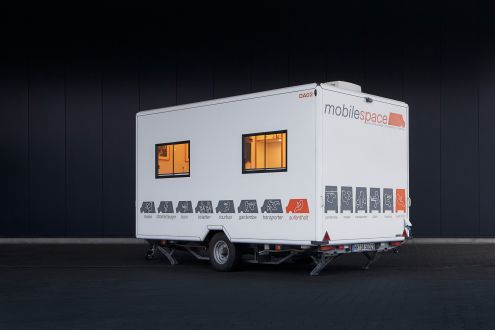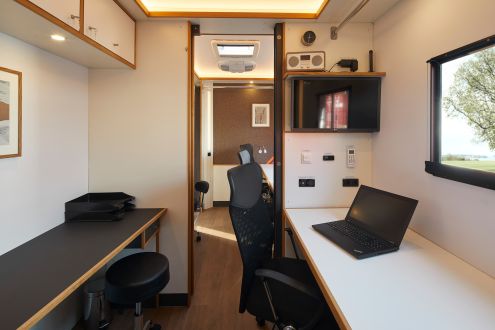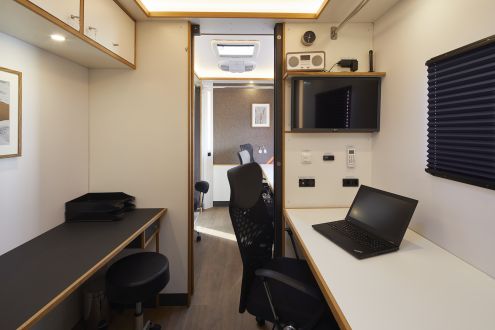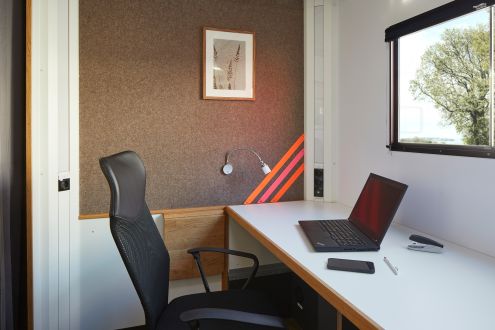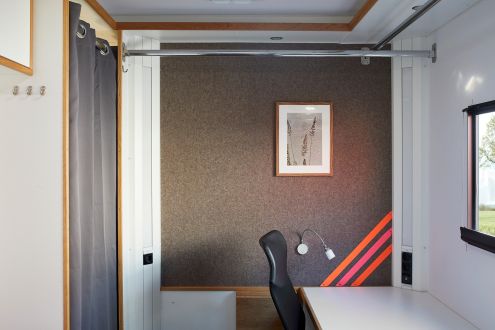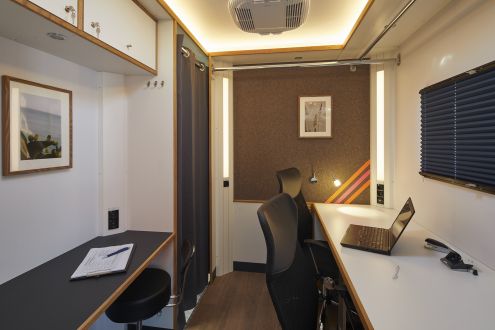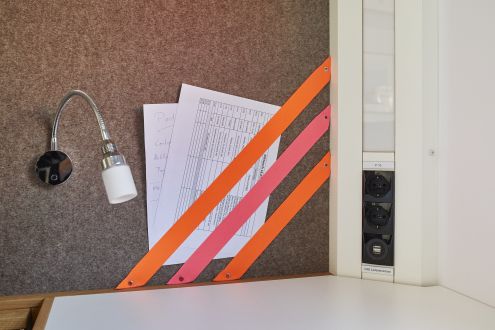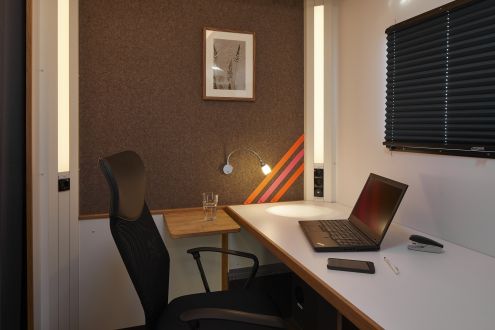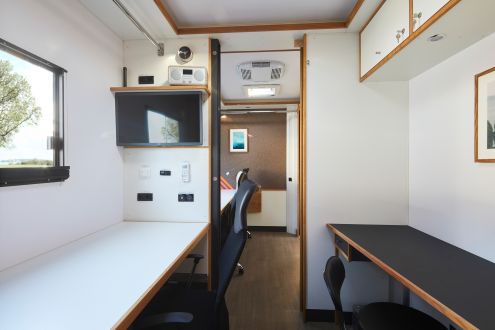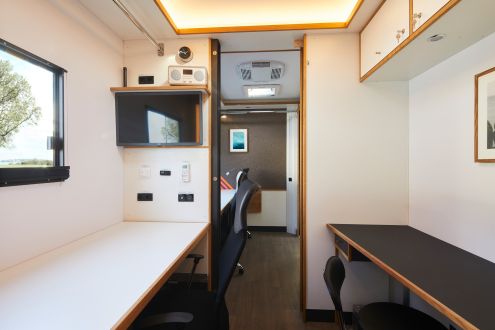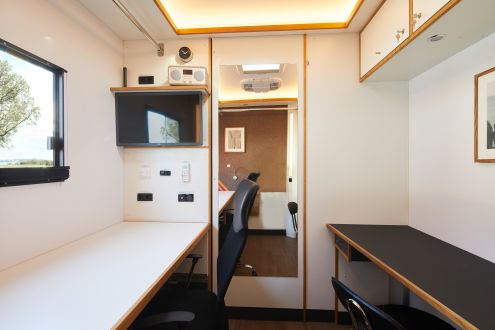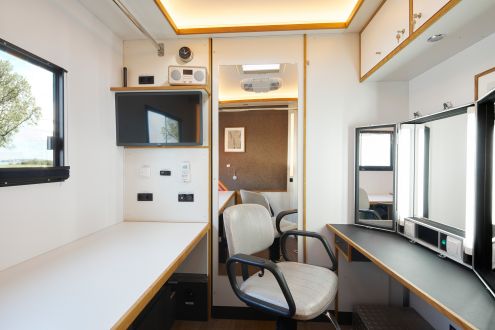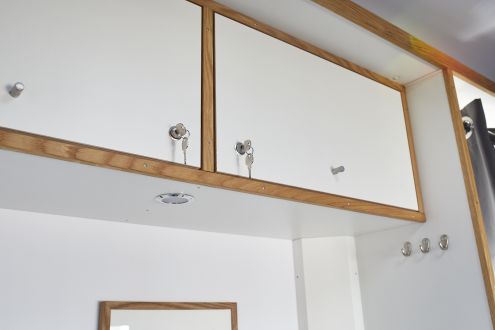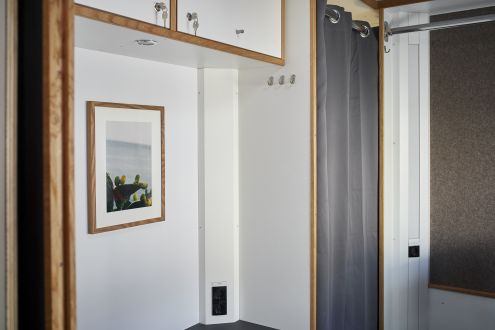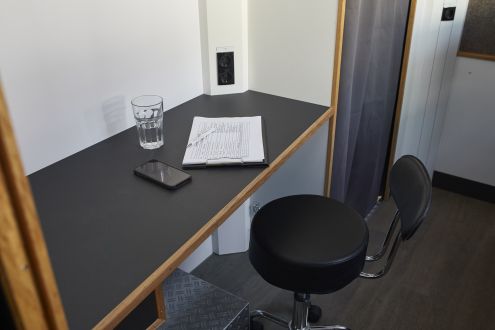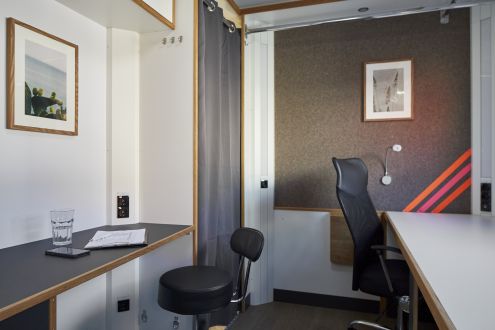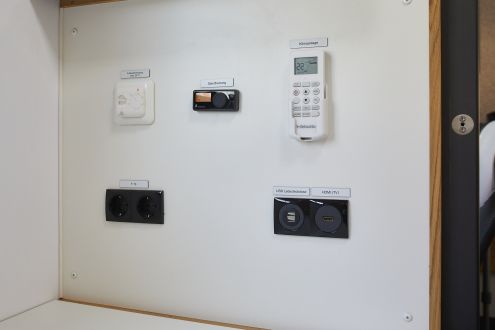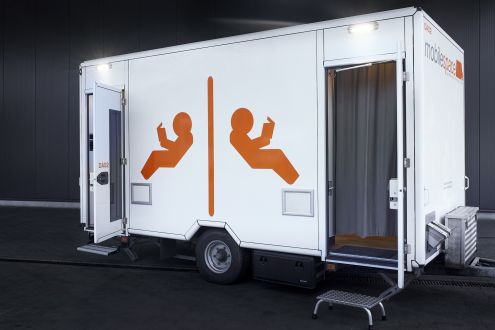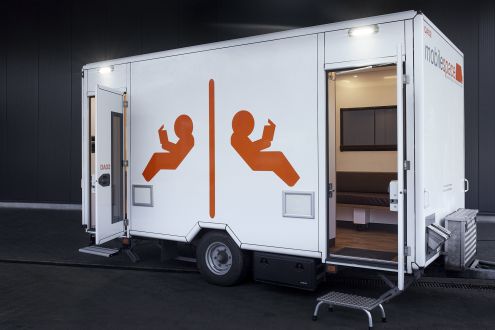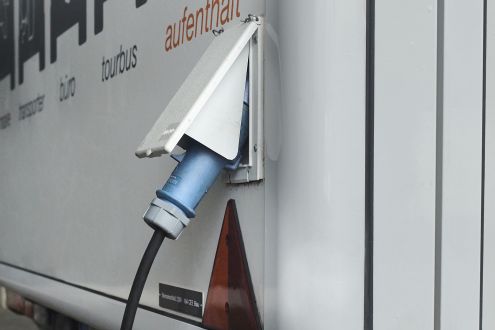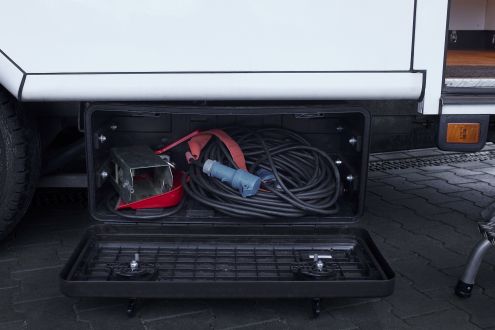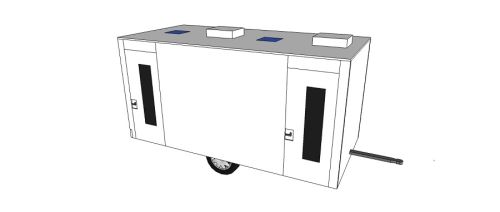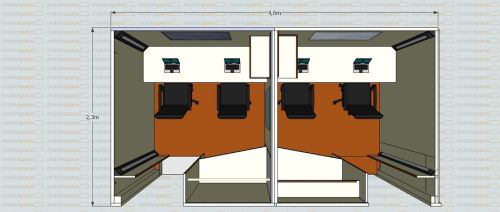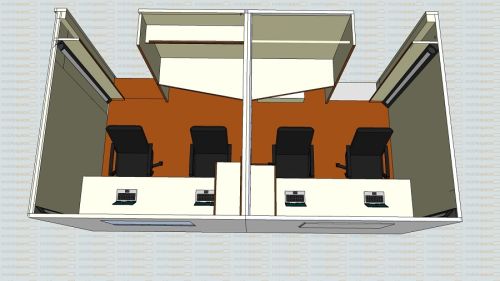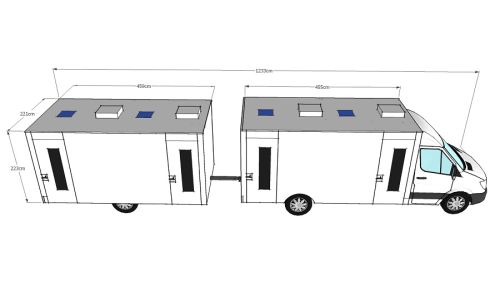 Vehicle group example images
Bü6 Doka Production Office Trailer
Two cabins - four workplaces
Info
Our BÜ6 production office trailer is divided into two identically equipped cabins, allowing up to four people to work at the same time. And they can do so completely undisturbed, thanks to a soundproof partition wall. On request, we can also remove the wall so that a larger team can sit together.
Each worktable offers space for two people and is equipped with light, sockets, USB ports and office chairs. Both cabins have two lockable compartments each for personal valuables, their own underfloor heating, a diesel auxiliary heater, air conditioning, TV, and a hi-fi system. On request, we can also install a refrigerator, espresso machine, or printer.
And if you are traveling remotely: Thanks to the integrated battery, the auxiliary heater, light and USB charging sockets can be operated for many hours independent of an external power supply.
With a weight of just under 2.5 tons, the trailer is relatively light and can be attached to some Set Vans as well as the Doka Van A5.
Technical info
Büroanhänger Typ BÜ6
Technik
    isolierter Kofferanhänger mit zwei Seiteneingängen
    2,5 T zulässige Gesamtmasse, 100 Kg Stützlast
    Führerscheinklasse BE, C, CE, C1 etc.
    PKW Kugelkopfkupplung
    Radkralle und Kupplungsschloss zur Sicherung gegen Diebstahl
    4x Schlüssel für Eingang Aufenthaltsraum
    16 A 230 V Stromanschluss (blau) Wohnmobilstecker-Adapter auf 220 V Schuko wird mitgeliefert
    Betrieb von Licht und Heizungsanlage unabhängig über Batteriestrom für ca. 24 Std. möglich
    leistungsstarke Klimaanlage und Dieselstandheizung für jeden Raum
    Fahrzeugstützen zum Aufbocken des Mobils
Zubehör (wird bei Fahrzeugübergabe mitgegeben)
    Verlängerungskabel (20 m) oder Kabeltrommel
    Adapterkupplung von 16 A (blau Wohnmobilstecker) auf 220 V Schuko
    4-5 x Bürostühle
    Kurbel für Fahrzeugstützen
    Tritt als Einstiegshilfe
Fahrzeugaussenabmessung
(Abmessungen können je nach Modell abweichen)
    Länge: 6,2 m / Breite: 2,30 m / Höhe: 3,12 m
Innenraumabmessung (pro Raum)
    2x Länge: 2,20 m / Breite: 2,10 m / Höhe: 2,20 m
Features
Büromobil Bü6
Ausstattung:
  viele Haken und Garderobenstangen zum Aufhängen der Garderobe
  2-5  Arbeitsplätze mit Bürostühlen und Steckdosen an jedem Arbeitsplatz
  Kabeleinlass von aussen
  kleine Schublade
 2 Fächer für Wertsachen mit Schloß zum verschließen
 Standheizung (je nach Fahrzeugmodell Gas- oder Dieselbetrieben)
Fußbodenheizung
DVD HiFi Anlage mit AUX und USB Anschluss
TV Flatscreen
gemütliche indirekte Ausleuchtung des Mobils durch Led-Stripes
viele große Fenster
Drucker (optional)
Espressomaschine (optional)
Kühlschrank (optional)