Galerie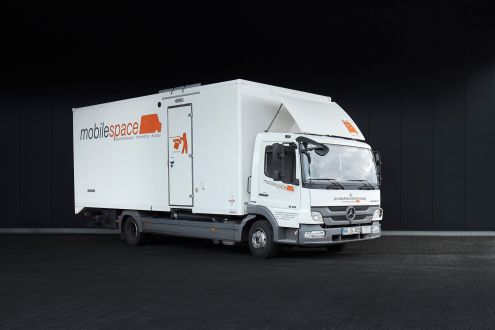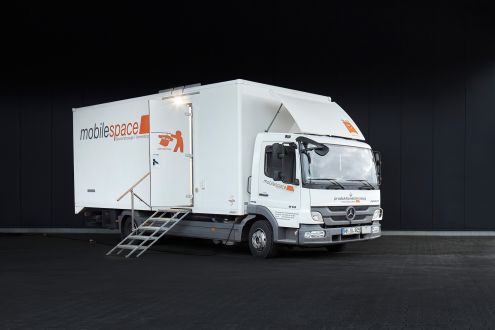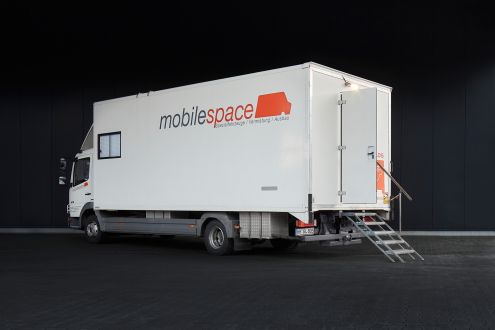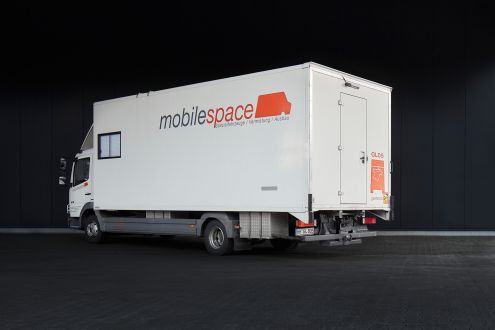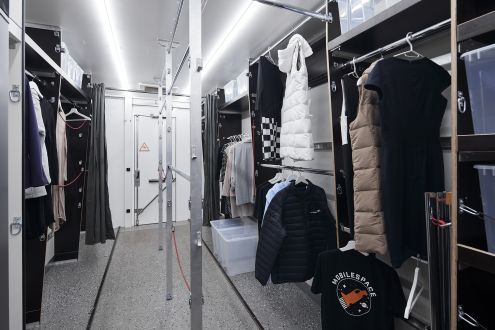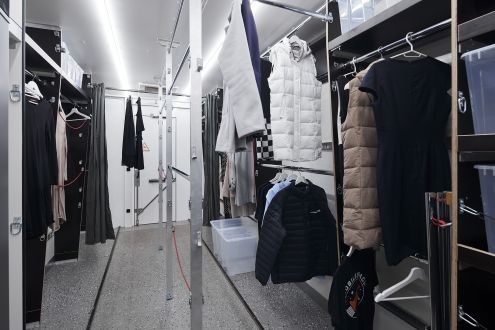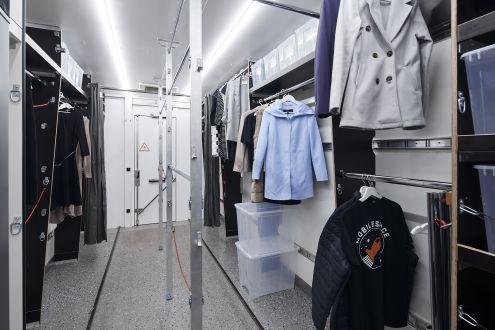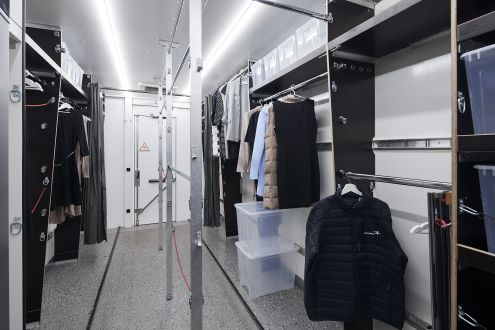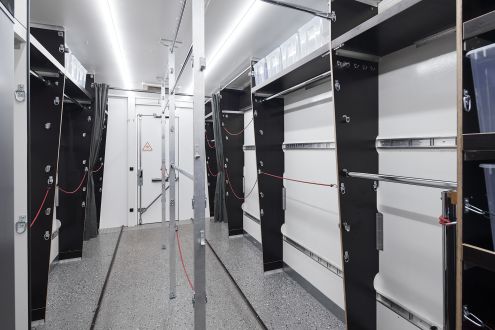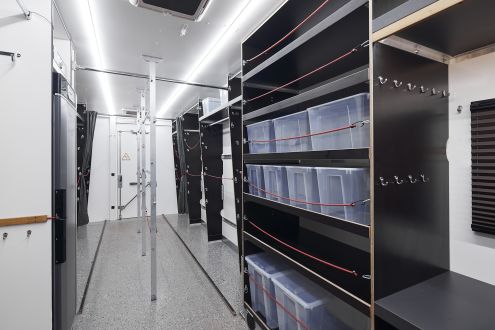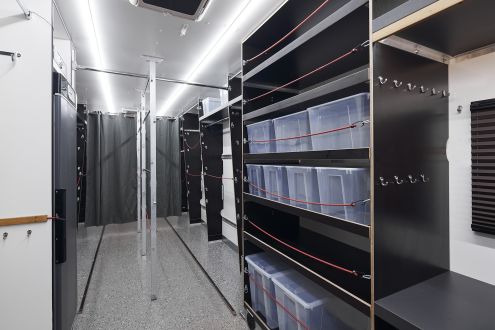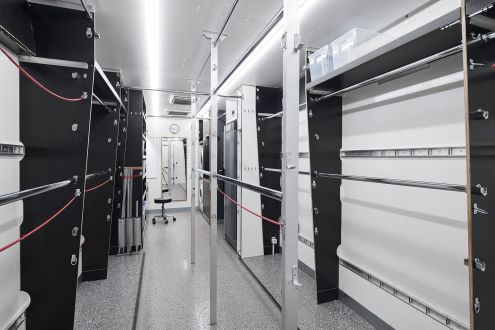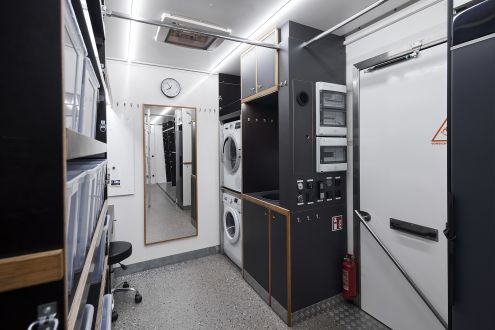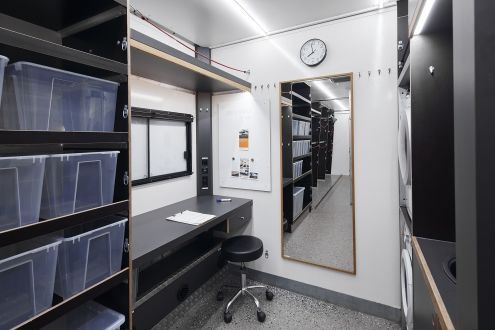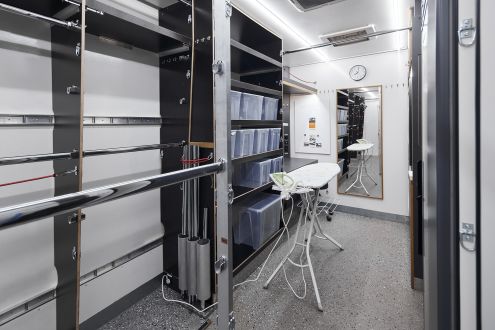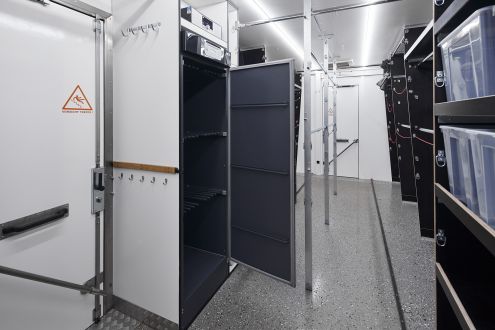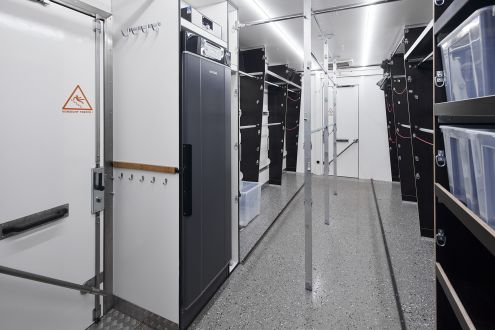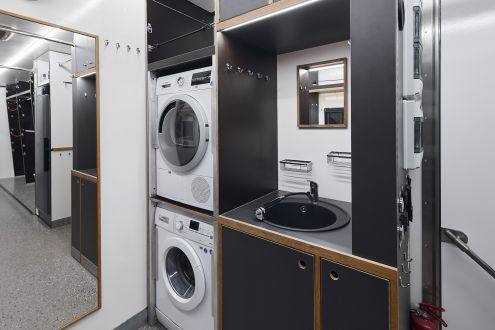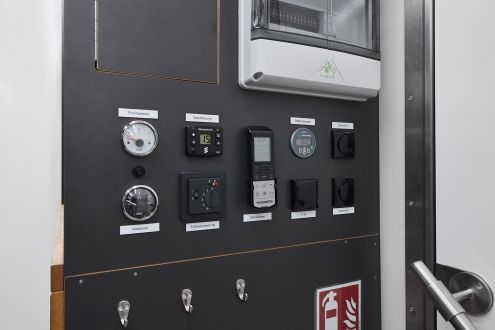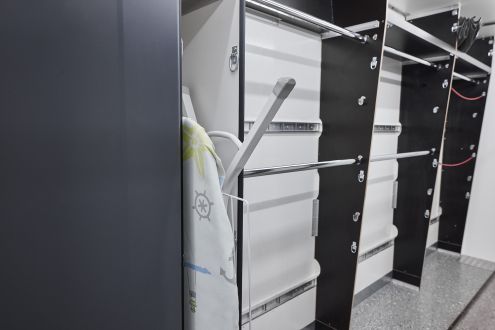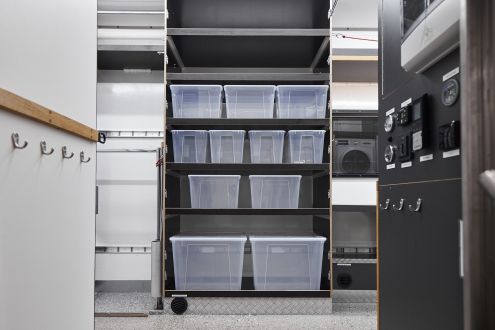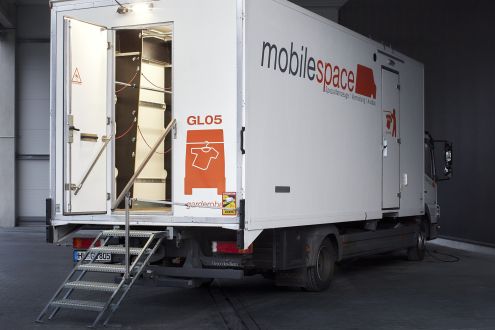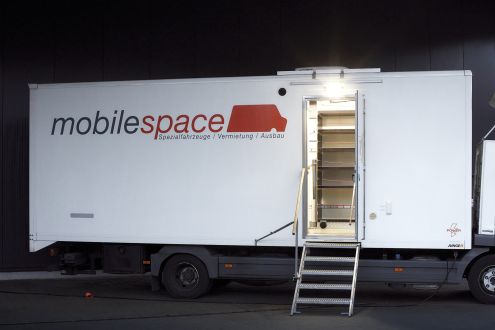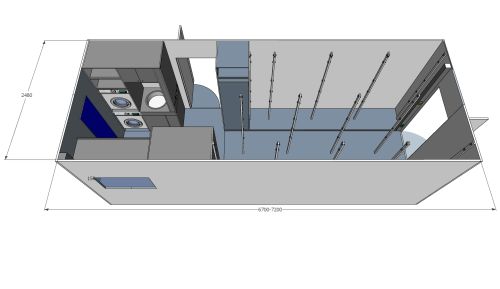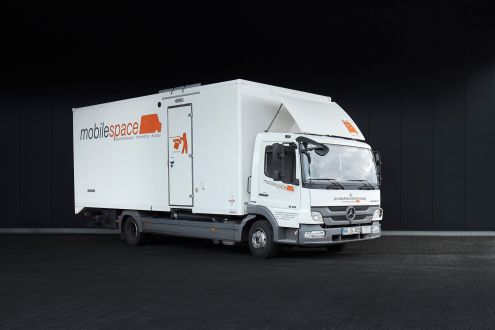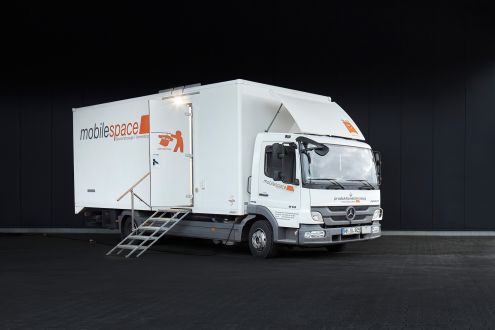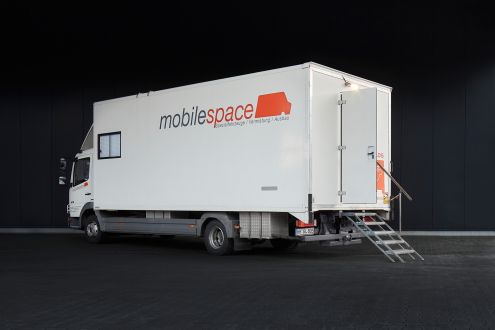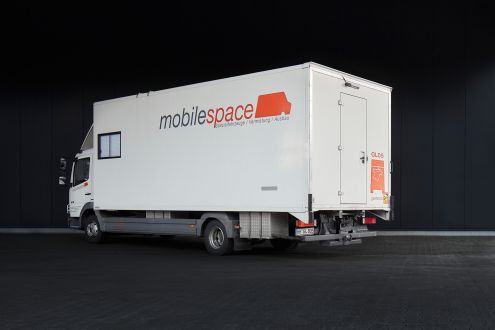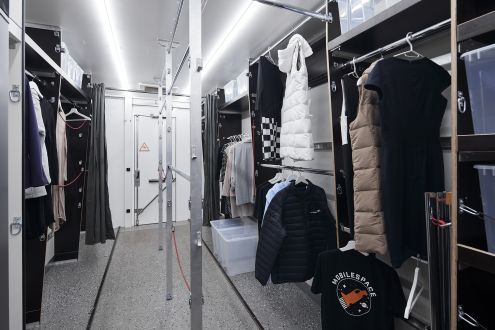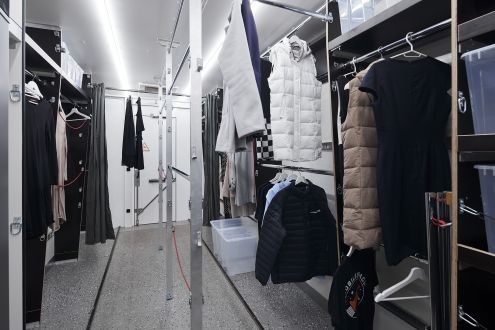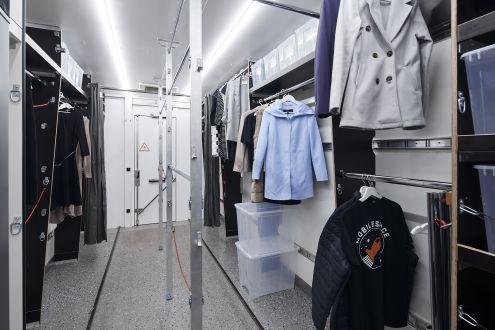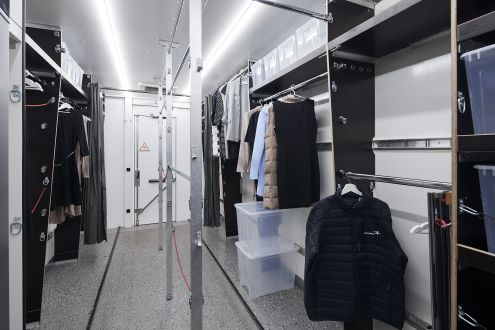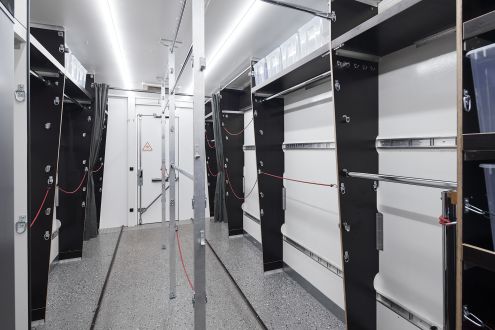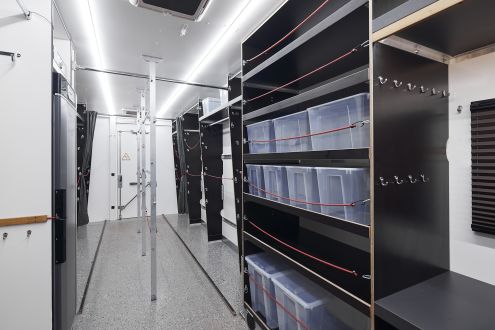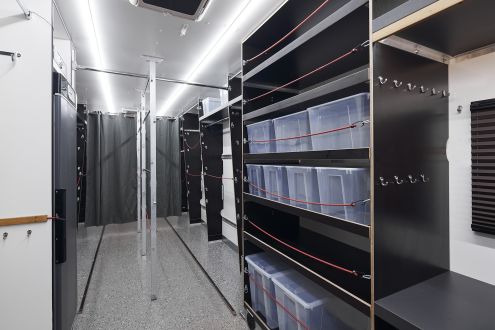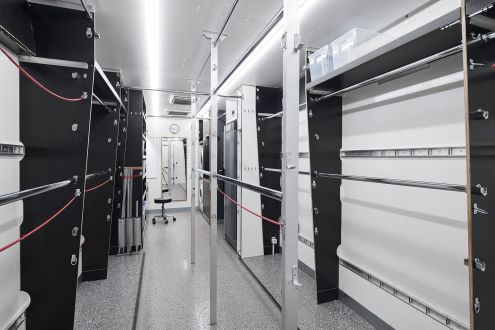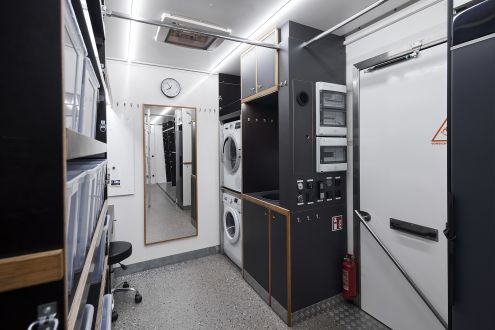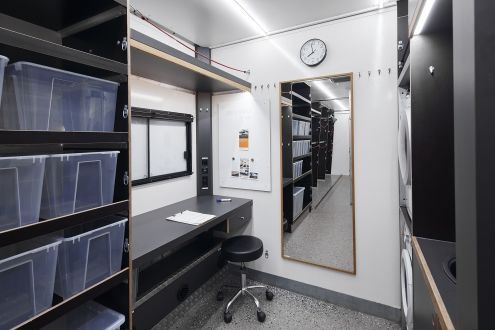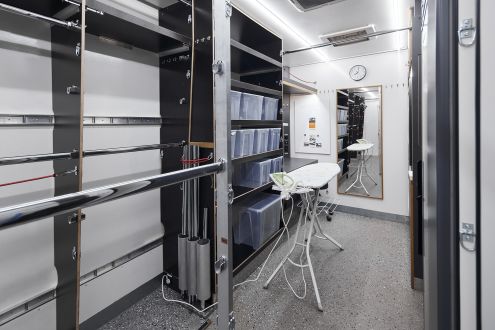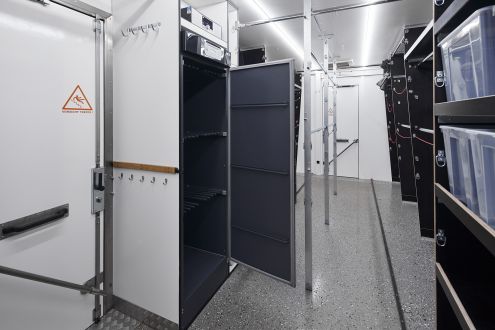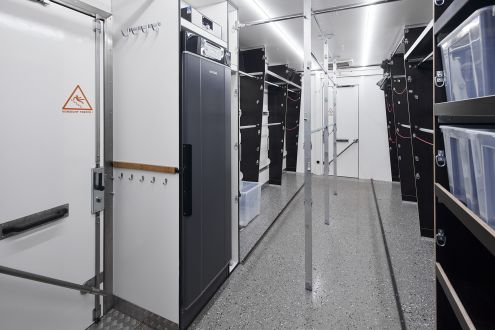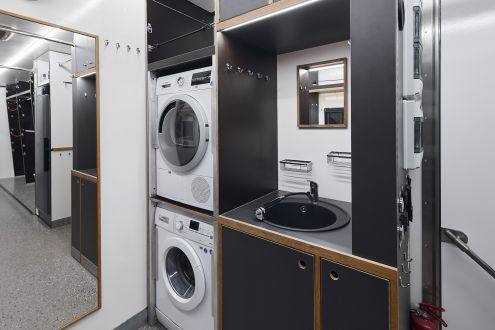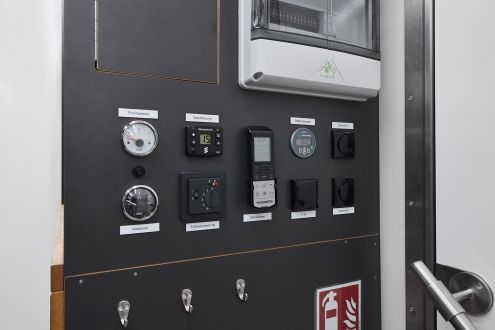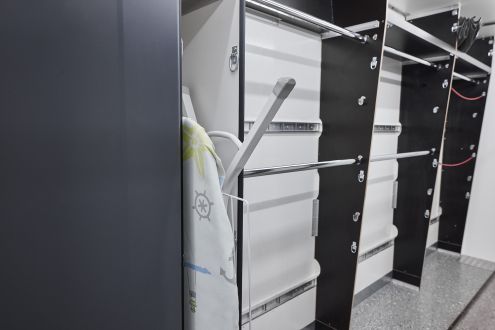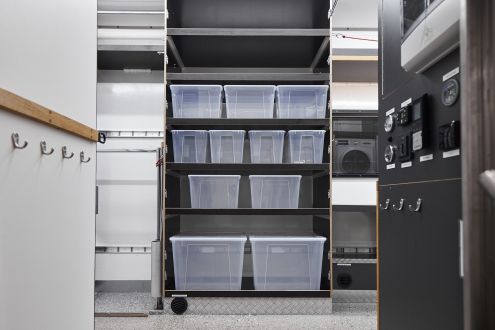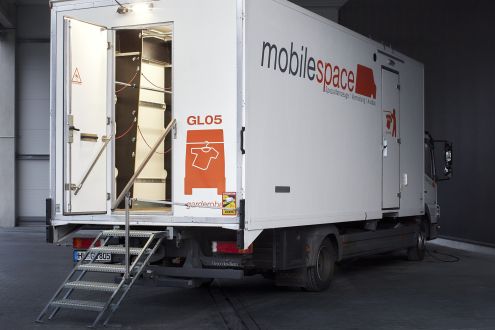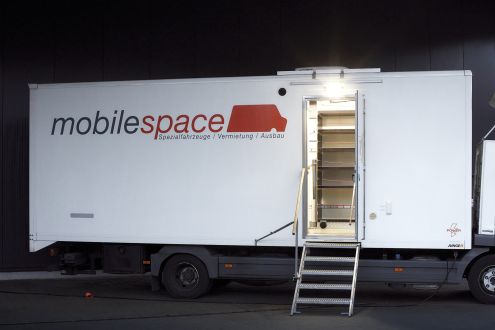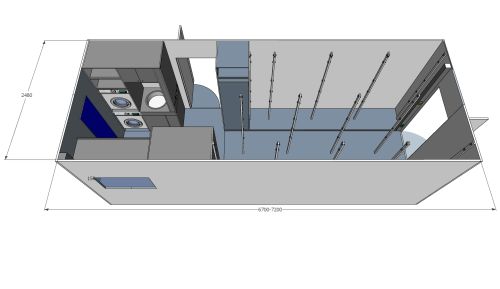 Vehicle group example images
G4 Wardrobe truck
The solution for large costume departments
Info
For productions with many costumes and the need for a lot of space, we can offer you our wardrobe truck G4. And if your production is "historical style" and the space for the costumes is not enough, we can simply attach one of our costume trailers G5 or G6 to it.
Thanks to the extra high interior space, you can also hang long clothes like jackets or coats on top of each other in the G4. Above the coat rails we have put in shelves to store boxes with small items like shoes, scarves, and socks.
The space-saving workspace is set up in the front part of the vehicle. Here, there is a sink with hot water where you can quickly remove small stains in-between. For more extensive cleaning, we have included a washing machine, a dryer, and a drying cabinet for particularly valuable costumes.
The small workspace is equipped with two small drawers, power outlets as well as USB ports. Lockable compartments are available to store personal valuables. The large workspace with side and rear entrances can be easily divided by a curtain. This way you can create a separate area with its own entrance as a changing room for the artistes.
You won't get cold feet in this truck. The underfloor heating provides pleasant heat in winter - and ensures that damp floors don't become slippery but dry again quickly. And in summer, when it gets really hot, you don't have to start sweating thanks to the air conditioning.
With the G4, you won't have to worry about electricity and water, either. Thanks to powerful batteries, the lighting and auxiliary heater can be used independently of an external power supply for several hours, and the extra-large water tanks allow the washing machine to run several times without a water connection.
Technical info
Mercedes Atego with box body
Air suspension
allowed weight: 7,49 T - 12 T 
Drivers License: C/CE
Entrance via rear and side
1x Ignition Keys/ 3x Wardrobe Keys
1x Driver Seat, 1x Front Seat
Car Radio w/ USB, AUX, MP3 & CD
Rear View Camera
hicht, bar coupling
stem flap
electricity consumption 250W (LED only) to 8000W (Dryer, washing machine, heating etc)
32 A 360 V Electricity plug (red)
Freshwater/ Wastewater tank: 120 L 
Frost safe use possible
heating
underfloor heating
LED Lights can be used for up to 2hrs in battery-mode
Dimensions
Length: 8,90 m / Wide: 2,55 m / Hight: 3,85 m
Cabin Dimensions
Length: 6,80-7,30 m / Wide: 2,40 m / Hight: 2,20-2,50 m
Features
ca 30 m Coat Rack
racks are variable in height
Drying-Closet - for high maintenance costumes
large closets for many boxes
large work stations inl plug-sockets, windows and lights
big sink with expandable shower head and optional hair washing support
2 lockable compartments for private or valuable things
Underfloorheating
Diesel-Heating
A/C
seperate chaning rooms (curtains)
12V LED Lights (up to 24hrs in battery mode)
many 220V plug-sockets
many coat hooks
washing machine
dryer
full-body mirror
outside lights
winter-use possible
HiFi incl DVD, AUX, USB
Rental info
Rental Info - Short Version
Please note our current terms & conditions - all prices net + 19% VAT!
All vehicles are self-insured. The deductible per damage is 1500,- €.
Minimizing the deductible to 400,- € is possible - please ask us for the applicable conditions
Delivery and Pick-Up during office hours: Monday to Friday; 9 A.M. - 6 P.M.
All services outside normal working hours: 69,- €/ per service.
All rental prices based on pick-up/ delivery in Hamburg or Berlin.
Other locations are priced extra.
Service Charge for not fully refuelled Mobiles is 25,- € plus gas.
Service Charge for forwarding Tickets is 15,- €/ Ticket
Service Charge for Cleaning, instruction and usables is 100,- €
Service of our Technicians is 35,- €
Free mileage per rental day: 500km (staggered).
Additional mileage: 0,22,-€/ km.
The reservation of vehicles is final, when we have received the signed offer.
The cancellation of the rental agreement may involve a cancellation fee according to our current terms & conditions.
Short-term rental (1-4 days) and new customers: pick-up against prepayment, cash or debit card.
Operation
Für die Benutzung des Garderobenmobils Typ G4 ist zu beachten:
Waschmaschine und Wassernetz
Das Fahrzeug ist mit einer Waschmaschine und einem Wäschetrockner ausgestattet. Der Frisch- und Abwassertank umfasst je 120l. Die Befüllung des Frischwassertanks erfolgt über einen Gardena Schlauch. Zum Ablassen des Abwassers wird das Fahrzeug über ein Siel im Boden gefahren. Dann wird der Ablasshahn umgelegt und der Tankinhalt entleert sich in das Abwassersiel. Im Weiteren besteht die Möglichkeit das Abwasser über den mitgelieferten Schlauch abzulassen, wenn der Gulli etwas weiter weg ist. Eine Tankfüllung reicht je nach gewähltem Waschmaschinenprogramm für ca. drei Waschladungen (Eco Modus). Danach muss der Abwassertank geleert und der Frischwassertank wieder befüllt werden. Der Füllstand des Frisch- und Abwassertanks kann jederzeit über eine digitale Anzeige abgelesen werden.
Neben dem Betrieb der Waschmaschine über das Tanksystem kann das Garderobenmobil auch direkt an eine Wasserleitung angeschlossen werden. Hierfür gibt es einen entsprechend gekennzeichneten (Direktanschluss) Gardena Anschluss am Fahrzeug.
Winterbetrieb
Bei Temperaturen unter dem Gefrierpunkt, insbesondere bei Dauerfrost (Tag und Nacht unter Null Grad) muss das Fahrzeug stetig an einer Steckdose angeschlossen sein (hierfür reicht auch 220V Schuko). Sämtliche Leitungen und Tanks sind mit einem elektrischen Frostschutzsystem ausgestattet, so das bei Anschluss des Mobils an eine externe Stromquelle alle Leitungen und die Tanks frostfrei bleiben.
Bitte beachten, dass der Betrieb des Wassernetzes im Winter viele Komplikationen mit sich bringen kann und entsprechend einer erhöhten Aufmerksamkeit bedarf. Insbesondere eingefrorene Wasserschläuche, abgedrehte Wasserhähne und eingefrorene Befüllstutzen können dem Benutzer einen "Strich durch die Rechnung" machen. 
Die Vermeidung von Frostschäden obliegt dem Mieter des Fahrzeugs!
Beleuchtung und Elektrik
Das Fahrzeug ist mit einer 12V und einer 220V Elektrik aussgestattet. Wenn das Fahrzeug nicht an den Stromkreislauf am Set angeschlossen ist, kann die Beleuchtung (nicht die Steckdosen!) für mehrere Stunden (ca. 24 Std.) über die interne 12V Batterie betrieben werden. Nach einiger Zeit muss das Mobil aber wieder an die Steckdose damit die Batterien wieder aufgeladen werden (spätestens wenn nichts mehr geht). Das interne Ladegerät lädt dann die Batterien wieder auf. Wenn die Batterie einmal entladen war kann es eine Weile dauern bis die Verbraucher wie Wasserpumpe und Licht wieder funktionieren Die Batterie ist mit einem Tiefenendladeschutz ausgestattet der verhindert, dass die Batterie beschädigt wird. Der Ladezustand der Batterie kann jederzeit über eine Led-Anzeige abgelesen werden.
Nur wenn das Mobil an einer externen Stromquelle angeschlossen ist, funktionieren die Steckdosen, Waschmaschine und Trockner, Frostschutzfunktion, Heizlüfter, Ölradiatoren und das Ladegerät der Batterie.
Probleme mit der Elektrik
Das Mobil hat einen internen Sicherungskasten mit Fi.
Wenn im Fahrzeug kein Strom ankommt (Steckdosen funktionieren nicht) dann liegt es meistens an einem defekten Anschlusskabel, einem defekten Stromerzeuger am Set oder an der Benutzung der Adapterkupplung auf 220V Betrieb. Wenn das Mobil über den 220V Schuko Adapter betrieben wird ist der Betrieb der Waschmaschine und des Wäschetrockners nur eingeschränkt möglich. Im Weiteren funktionieren nur einzelne Steckdosen. Sollte also gar kein Strom am Mobil ankommen, geht bitte folgendermaßen vor:
Bitte kontrolliert die Sicherungen im Sicherungskasten des Fahrzeugs. Wenn eine Sicherung draußen ist bitte alle Verbraucher wie Waschmaschine, Bügeleisen etc. aus den Steckdosen ziehen und die Sicherung wieder einschalten. Wenn die Sicherung drinbleibt können nun nacheinander die Verbraucher wieder an den Strom angeschlossen werden. Sobald wieder eine Störung auftritt ist wahrscheinlich das entsprechende Gerät defekt.
Sind alle Sicherungen drin dann ist in den meisten Fällen ein Defekt am Mobil auszuschließen. Bitte kontrolliert dann die Sicherungen am Stromerzeuger. Sind auch hier alle Sicherungen drin, könnte der Defekt am Kabel oder der Adapterkupplung liegen. Also als nächsten Schritt diese beiden Teile austauschen. Wenn dann immer noch nichts funktioniert, ruft uns an und wir kommen euch zu Hilfe.
Eingangstür
Da die hinteren Türen und die Seitenschiebetür des Fahrzeugs bei vielen Mobilen nicht über die Zentralverriegelung verschlossen werden, vergewissert euch immer ob wirklich alle Türen zu sind, wenn ihr das Mobil verlasst.