Galerie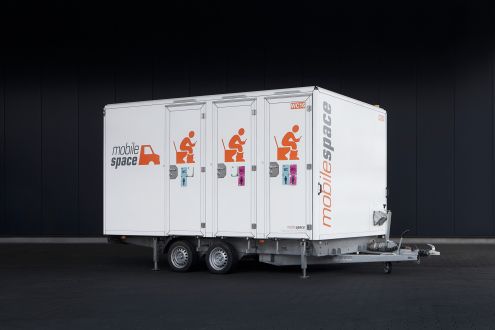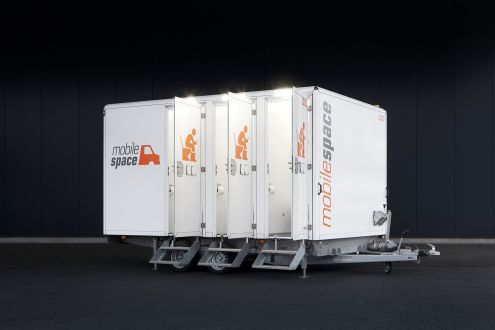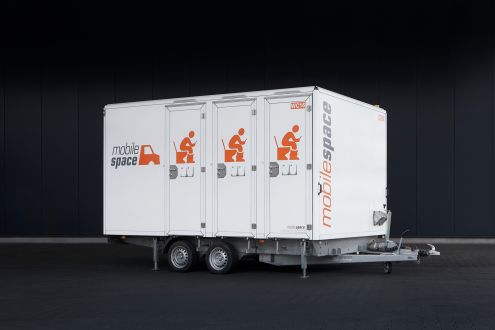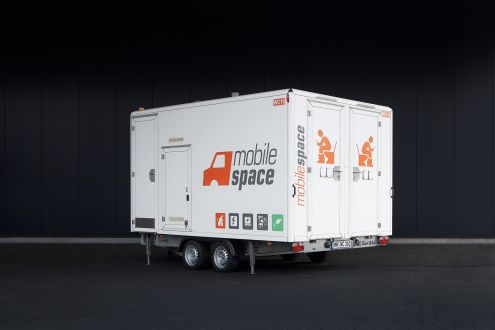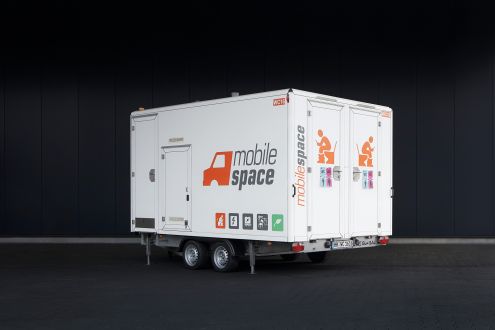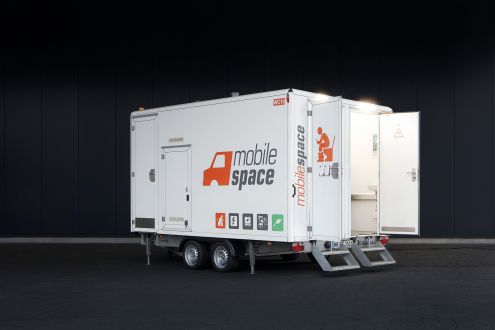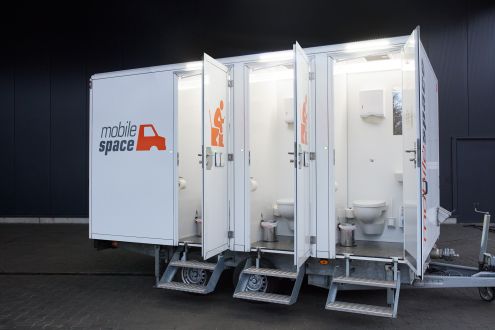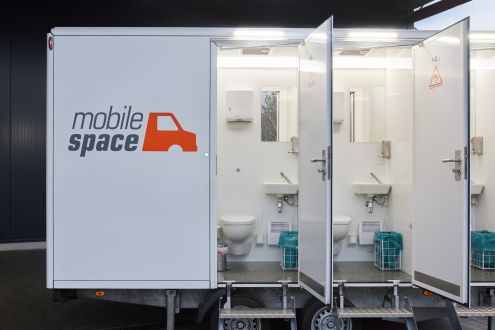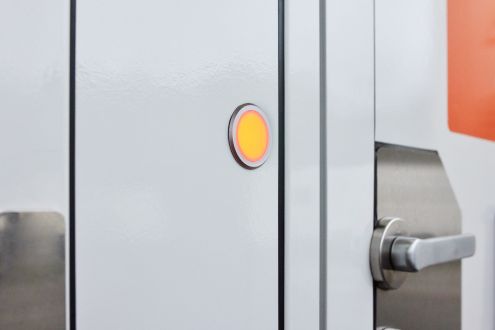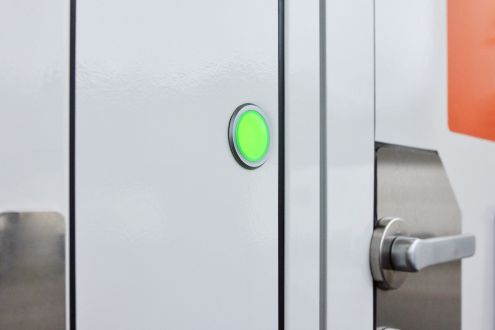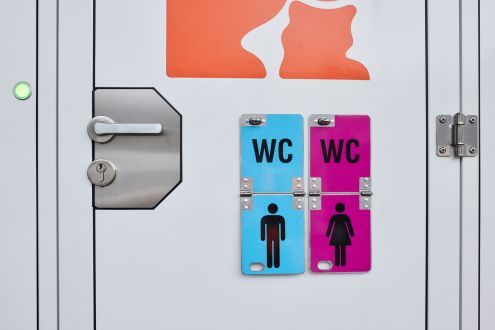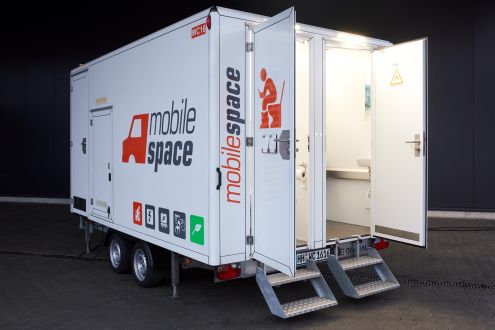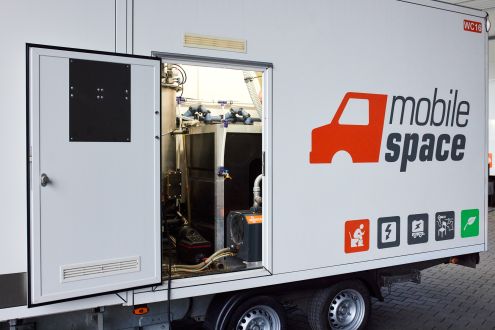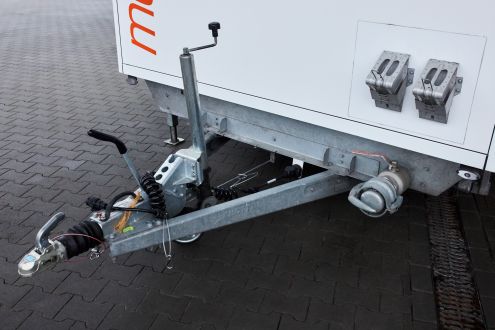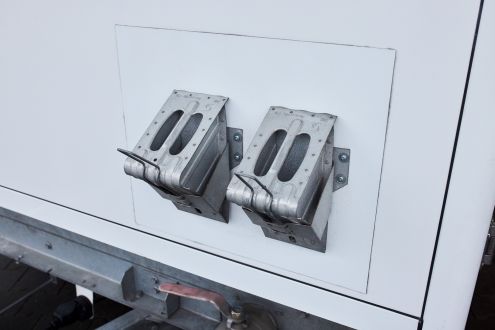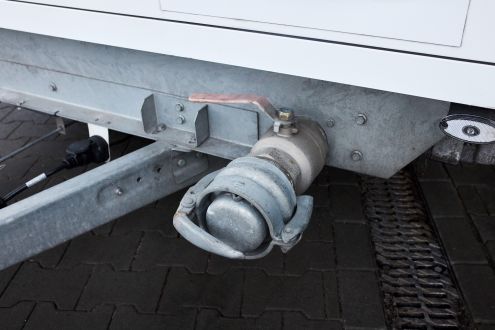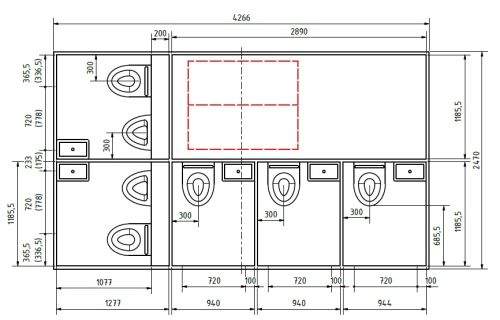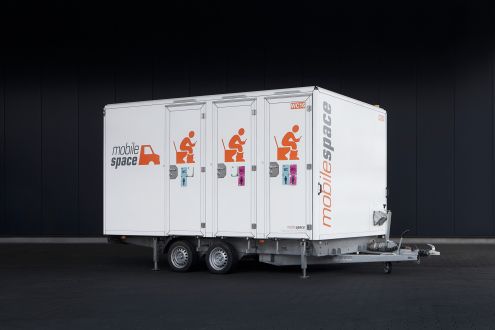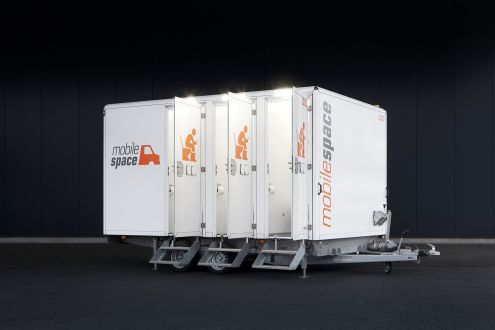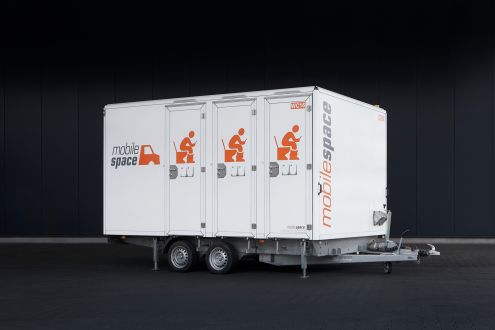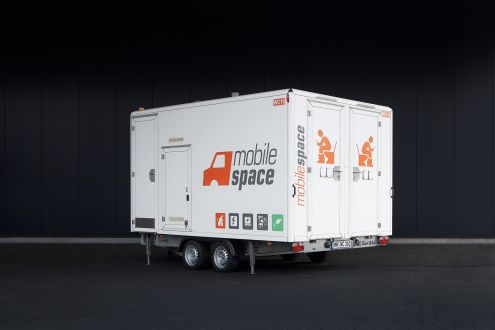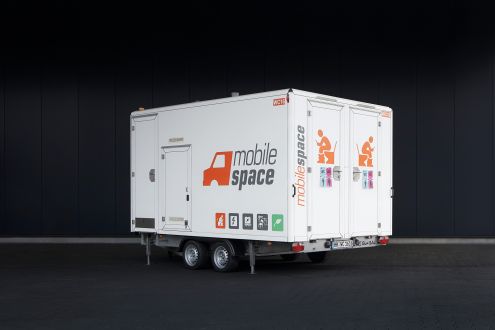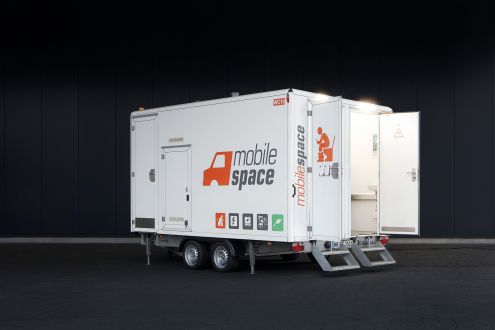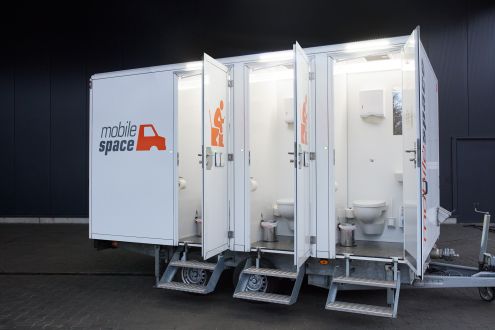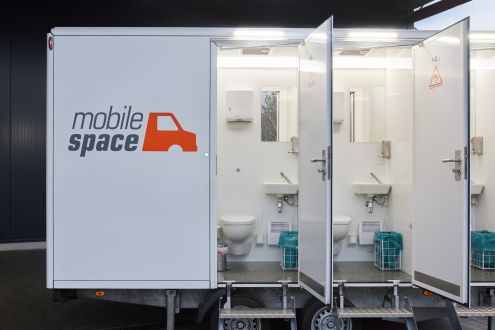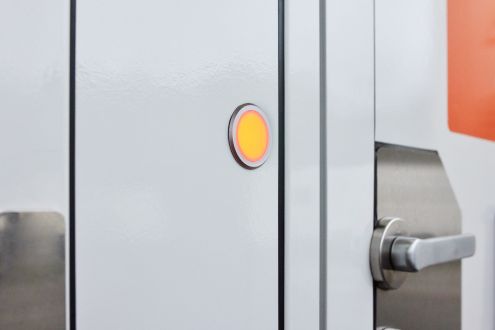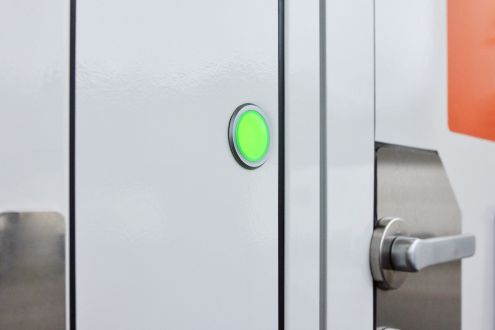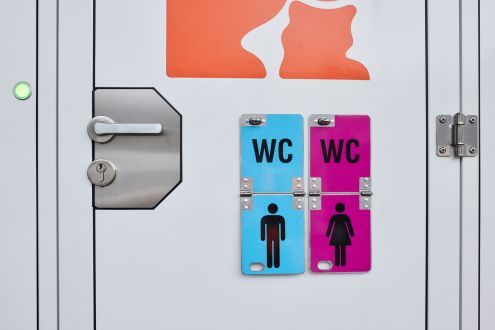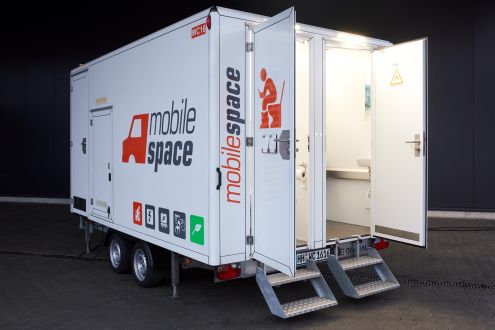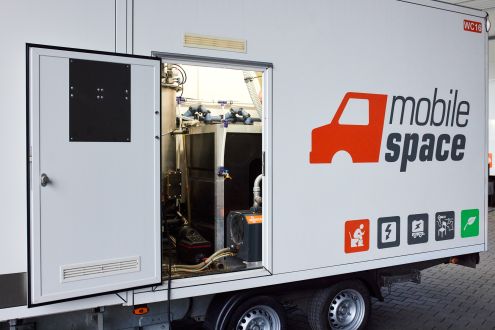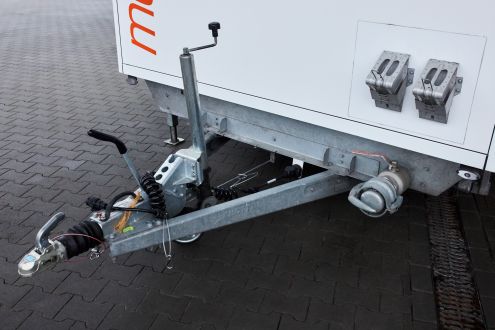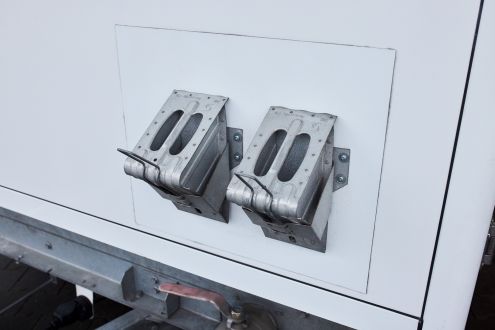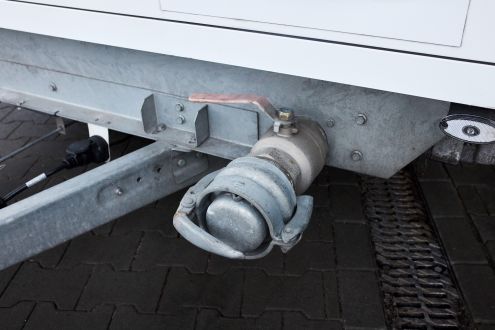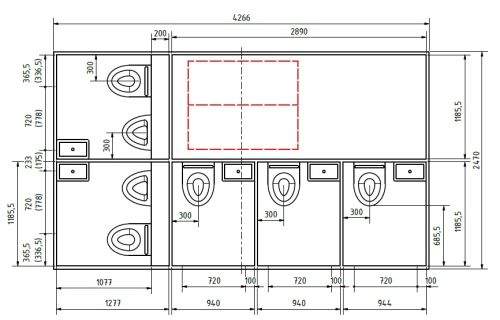 Vehicle group example images
WC 5 Honeywagon
Five small restroom cabins - maximum tank capacity
Info
This trailer has five restroom cabins with their own entrances: two men's compartments with a toilet, urinal, and sink, and three women's compartments, each equipped with a toilet and a sink. Of course, there are soap and paper towel dispensers in each cabin.
With flip-up signs, you can decide for yourself whether the restroom cabins are for men only, women only, or both. A red or green status light shows from a distance whether the toilet is currently occupied or vacant.
The toilets operate via a vacuum system and are thus particularly economical in terms of water consumption. The toilet system allows self-sufficient operation without fresh- or wastewater connection. The wastewater tank holds 1,500 liters, the freshwater tank 800 liters. This means that this trailer has the largest water capacity of all our models. It can therefore be used for longer than, for example, the WC2 - without the need for a service call to empty the tanks. This saves you time and money. With a team of 70 people, the wastewater tank lasts for about four to five days of operation.
The disposal of the wastewater tanks as well as the refilling of the freshwater tanks is done by our team directly on site – and only after consulting with you. For this purpose, we have special disposal vehicles and specialized staff.
The trailer weight with filled tanks is 3,5 tons and needs a suitable towing vehicle like our Pick-Up W3 or our bigger trucks like T5, or T6 .
Please note that there are special operating instructions for this system. We will give you more details when you rent the vehicle.
Technical info
Toilettenanhänger WC5:
16A rot CEE Stromanschluss
Entnahmestelle für Frischwasser 3/4" (z.B für Catering)
Besetzt-Anzeige mit Außenleuchte (rot/grün)
Umfeldbeleuchtung zur hellen Ausleuchtung der Umgebung
Vakuumsystem mit sehr geringen Wasserverbrauch
Frostschutzsystem für den Wintereinsatz (Anhänger muss bei Temperaturen im Minusbereich immer an Strom angeschlossen sein)
1500 Liter Abwassertank (Kapazität reicht für Ca. 2500 bis 3000 Spülvorgänge)
 800 Liter Frischwassertank
Hauswasseranlage, digitale Füllstandsa
abschließbare Absaugstutzen 4" vorne am Anhänger
digitale Füllstandsanzeige für Frisch-, und Abwassertanks. 
3,5 T zulässiges Gesamtgewicht
Höchstgeschwindigkeit 80 Km/h
Abmessung des Anhängers:
Länge 4,30 m; Breite 2,48 m; Höhe 2,85 m (NUR Koffer)
Gesamtabmessung (mit Deichsel)
Länge 6,2 m; Breite 2,48 m; Höhe 2,85 m
Features
  2 Kabinen mit Wc & Pissoir, Waschbecken, Seifen & Papierhandtuchg-Spender
  3 Kabinen mit Wc, Waschbecken, Seifen- und Papierhandtuch-Spender
  Spiegel, Klobürste und Toilettenpapierhalter in allen Kabinen
  LED Innen- und Außenbeleuchtung
  Heizung (500 W) in jeder Kabine
  Einstiegstreppe
  großer zusätzlicher Stauraum mit großer Tür für z.B Putzmittel, Staubsauger, Zelte, Set-Equipment etc...
Rental info
Mietinformation - Kurzübersicht
Bitte beachten sie auch unsere akuellen AGB - alle Preise netto zzgl. 19% MwSt!
alle Fahrzeuge sind eigenversichert, die Selbstbeteiligung pro Schaden beträgt 1500,- €
eine Reduzierung der Selbstbeteiligung bis 400,- € ist möglich, Preise auf Anfrage
pro Fahrzeug wird eine Servicepauschale von 100,- € für Reinigung, Einweisung und Verbrauchsstoffe berechnet
Anlieferungen und Abholungen sind während der Geschäftszeiten Mo. bis Fr. von 8:00 bis 19:00 Uhr möglich
für alle Serviceleistungen außerhalb der Geschäftszeiten werden pro Einsatz 69,- € zusätzlich berechnet
alle Mietpreise gelten ab Standort Hamburg oder Berlin. Zustellung und Abholung werden gesondert berechnet
bei verspäteter Rückgabe von Mietzubehör wird dieses unverzüglich in voller Höhe berechnet
für die Rückgabe von nicht voll getankten Mobilen berechnen wir 25,- € zuzüglich Kraftstoffkosten
für die Weiterleitung von Strafzetteln berechnen wir 15,- € / Strafzettel
für unsere Servicetechniker berechnen wir 35,- € / Std.
pro Miettag sind 150 Km frei, jeder weitere Km wird mit 0,22 € /Km berechnet
eine Reservierung von Fahrzeugen kann erst erfolgen, wenn uns das schriftlich bestätigte Angebot vorliegt
bei Rücktritt von einem abgeschlossenen Mietvertrag können Stornokosten entstehen. Kosten siehe AGB
für Kurzanmietungen (1-4 Tage) und Neukunden gilt: Bezahlung per Vorkasse, bar oder EC Karte bei Abholung