Galerie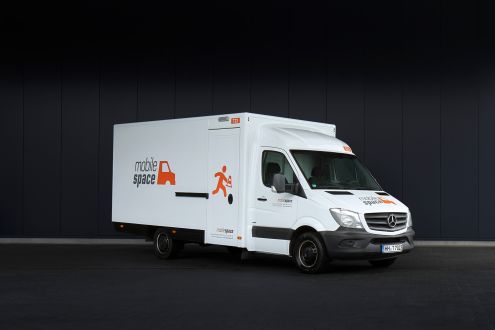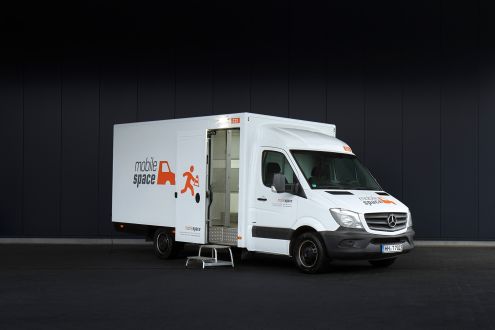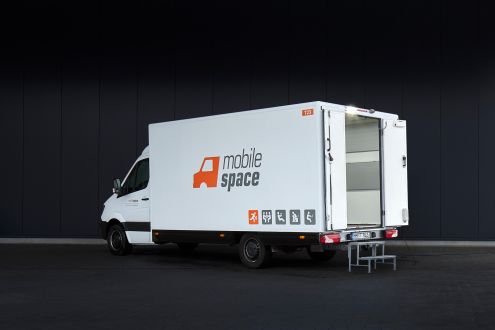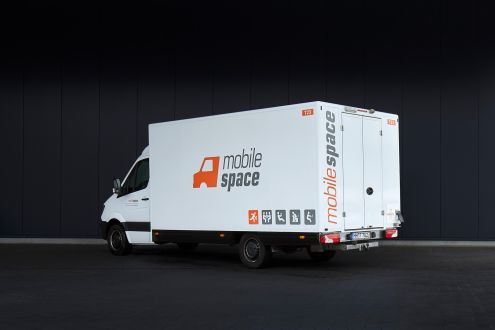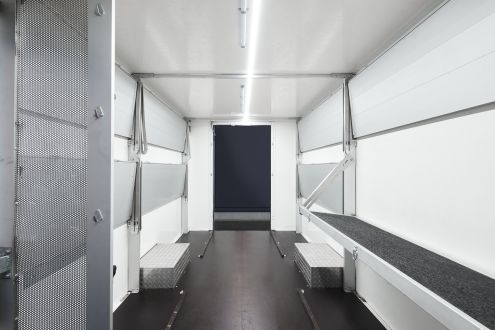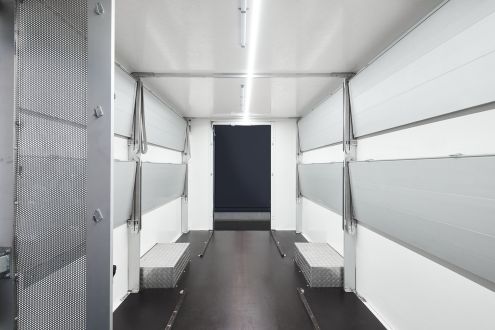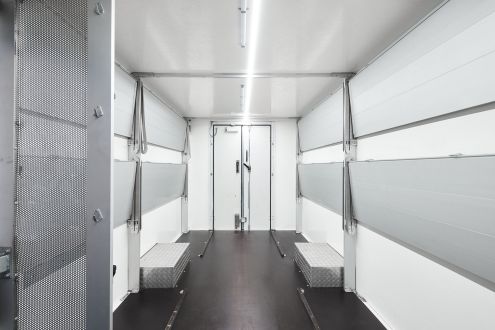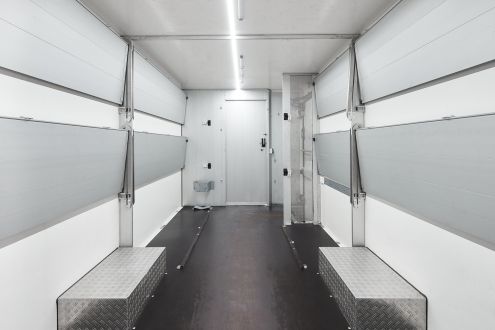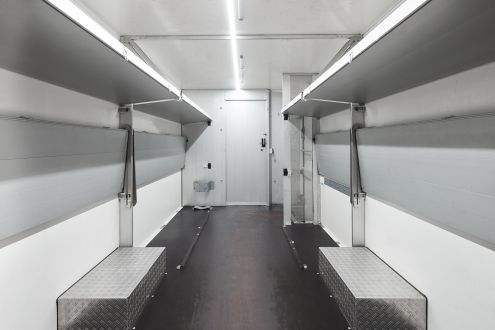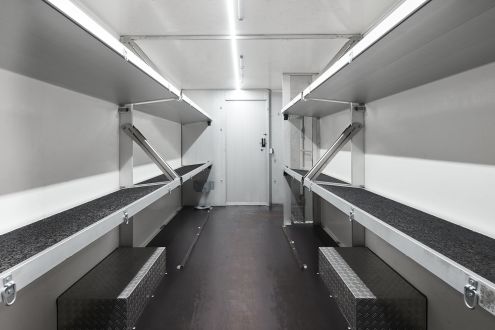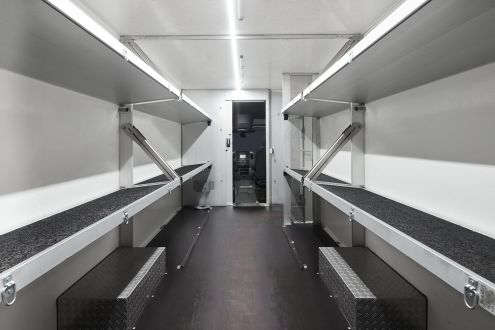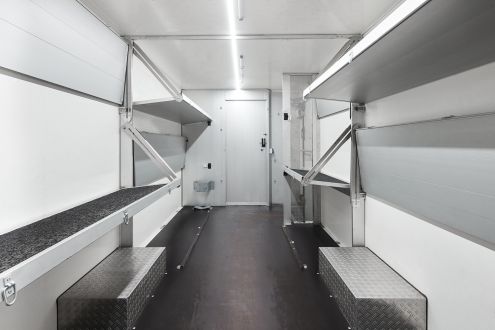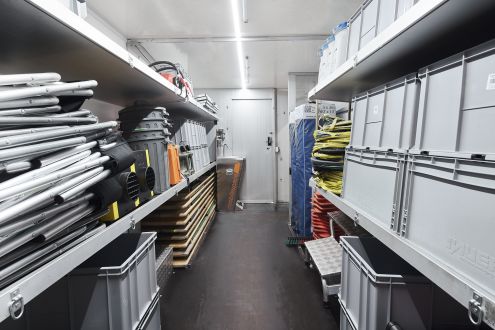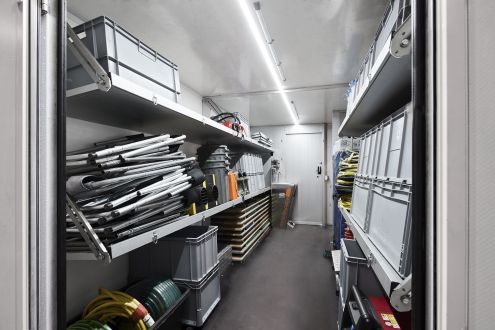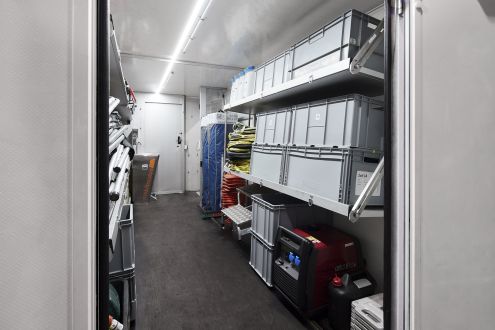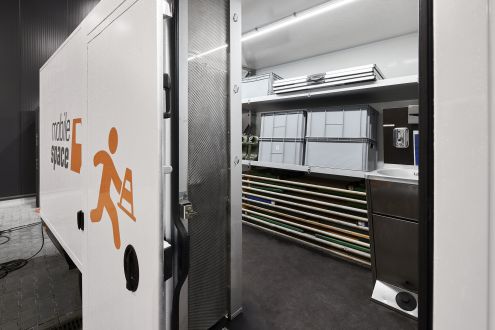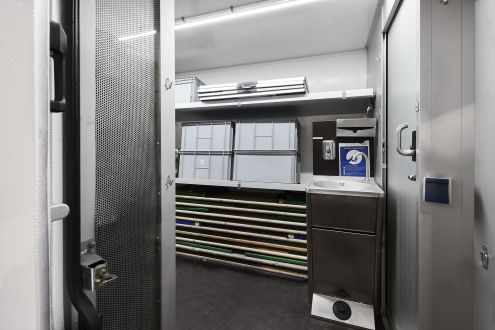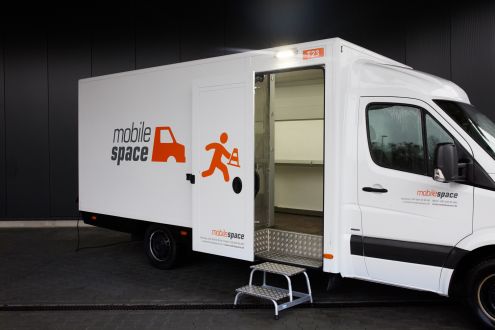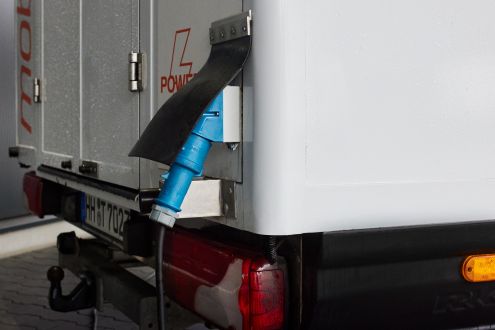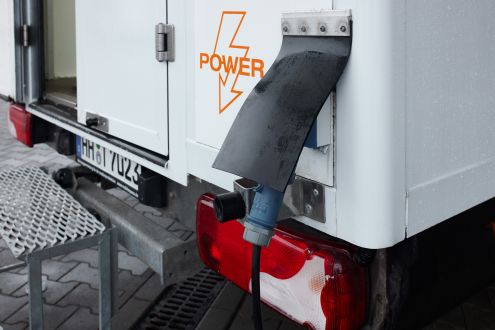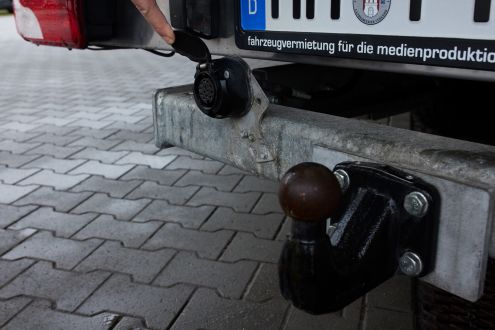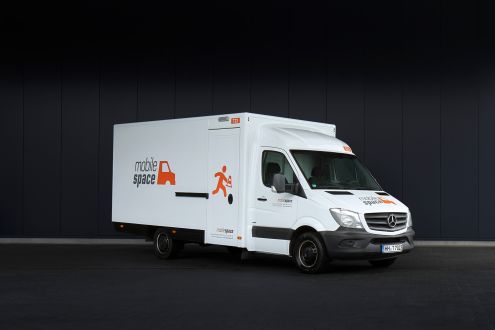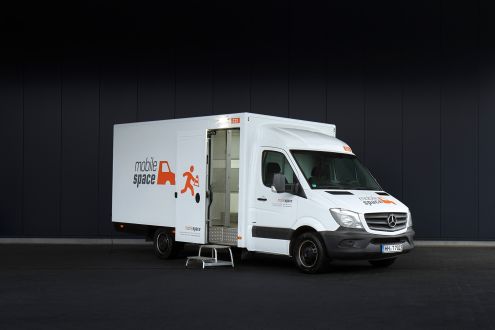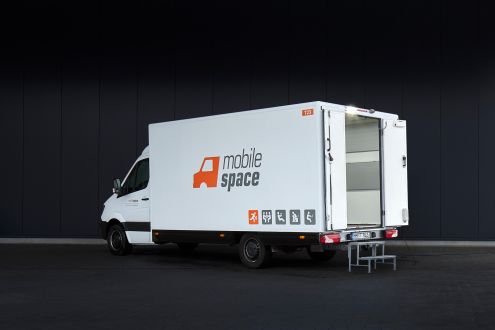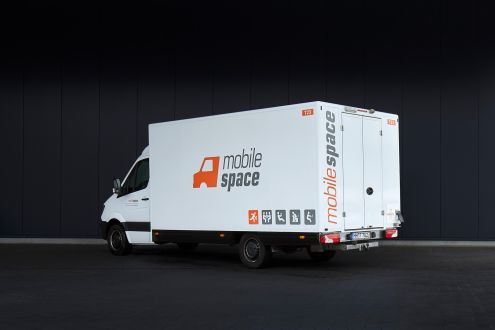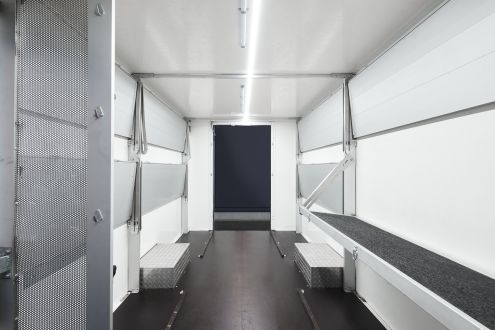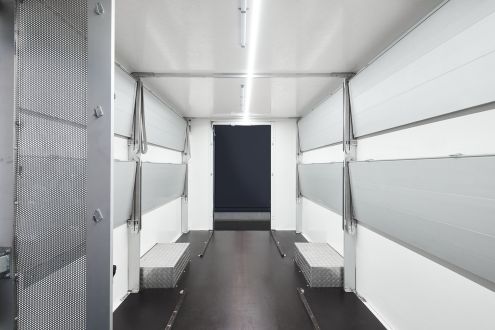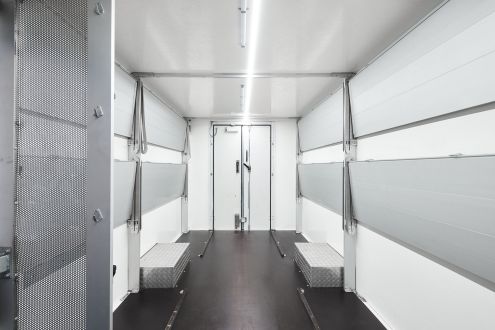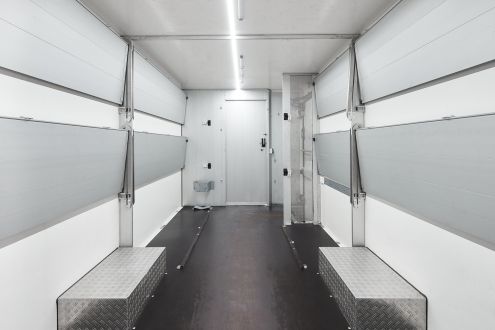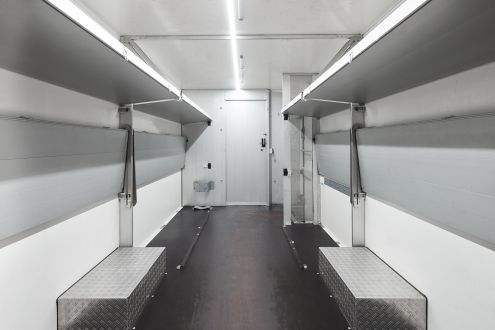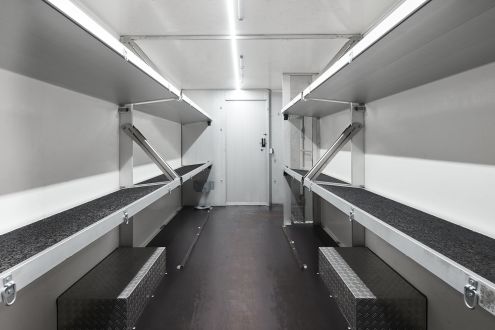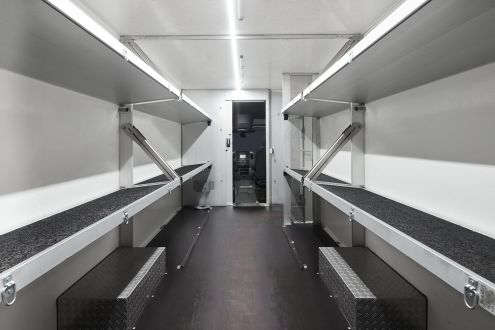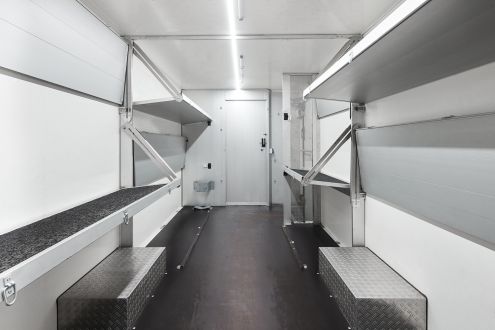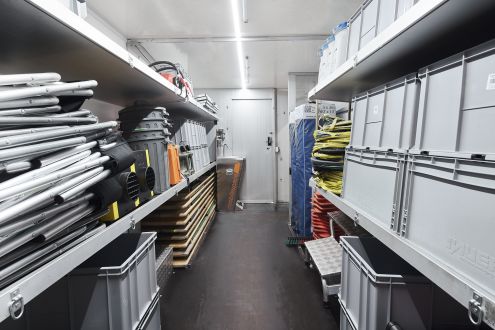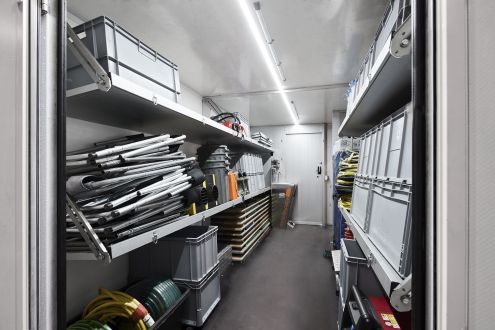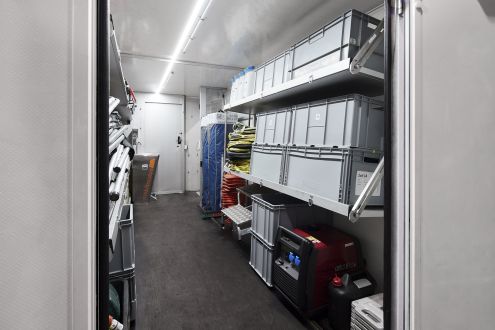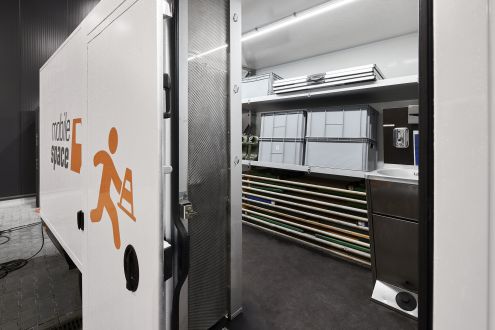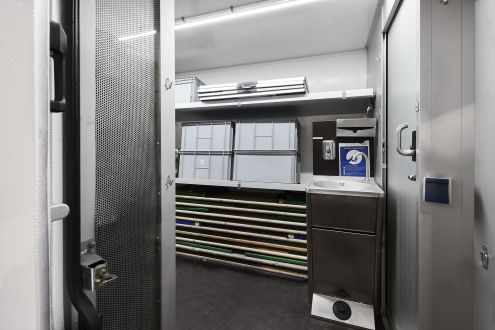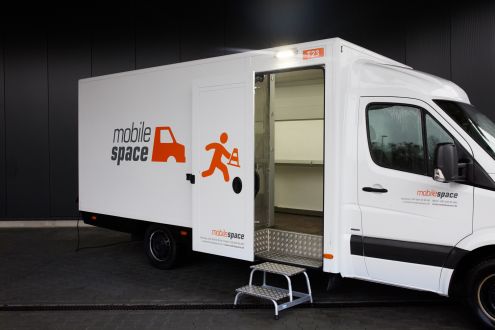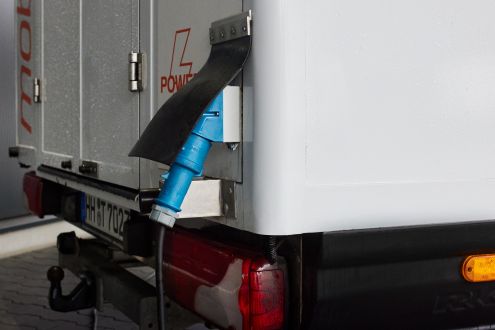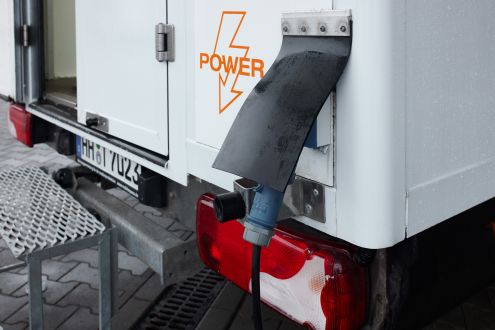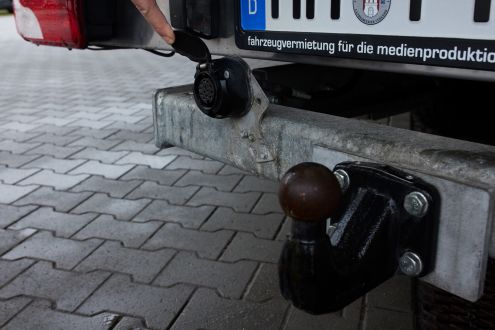 Vehicle group example images
T2 Set Van
Long, angular, and anything but standard
Info
The Set Van T2 is perfect for storing your set equipment and as a workspace. The large angular heat-insulated box body with straight walls is equipped with a high-quality aluminum shelving system. The shelves can easily be folded up to create space for larger items or even a small workstation. According to your needs, you can get an empty or a fully equipped set vehicle. Just tell us what you need, and we will load the van with your individual equipment. To do this, we can email you our equipment list, in which you simply tick off what you want.
Two rooflights let natural light into the vehicle, even when the doors are closed. With the external power feed, you can simply plug the T2 into your existing power grid, and you'll have a workspace with plenty of light and outlets for the set. Of course, the lighting of the cargo area also works via the on-board battery, just like in a normal van. Additionally, a switch turns off all extra lights to ensure that you can start the vehicle after finishing your shooting day.
The cargo area has a rear door, and in many vehicles in this group, a side door as well as an access to the driver's cab. For additional safety, all vehicles are equipped with powerful lighting for the outdoor surrounding area, so you can see where cables lie or sidewalks end, even in the dark.
The ball-head trailer hitch has a towing capacity of 2.0 to 2.8 tons, depending on the model, and is well suited for towing our generator trailers.
The required European category BE driving license is quickly obtained in three days and costs only a few hundred euros.
Technical info
Mercedes Sprinter with box-body
max total weight 3,5t, drivers license B
2 foldabele passenger seats
Car Radio w/ USB, AUX, MP3 & CD
Rear View Camera
220V Lighting and plug-sockets 
12V emergency light
Dimensions
Length: 6,80 m / Width: 2,20 m/ Hight: 2,80 m
Box Body / Cargo Dimensions
Length: 4,20 m / Width: 2,10 m/ Hight: 2,0 m
Features
Foldable Shelve-System
2 rooftop windows
door between drivers cabin and cargo hold
electrical heater
lots of loading space
220V electrical supply
220V lights inside
cargo closet for 12 big boxes
Rental info
Please note our current terms & conditions - all prices net + 19% VAT!
All vehicles are self-insured. The deductible per damage is 1500,- €.
Minimizing the deductible to 400,- € is possible - please ask us for the applicable conditions
Delivery and Pick-Up during office hours: Monday to Friday; 9 A.M. - 6 P.M.
All services outside normal working hours: 69,- €/ per service.
All rental prices based on pick-up/ delivery in Hamburg or Berlin.
Other locations are priced extra.
Service Charge for not fully refuelled Mobiles is 25,- € plus gas.
Service Charge for forwarding Tickets is 15,- €/ Ticket
Service Charge for Cleaning, instruction and usables is 100,- €
Service of our Technicians is 35,- €
Free mileage per rental day: 500km (staggered).
Additional mileage: 0,22,-€/ km.
The reservation of vehicles is final, when we have received the signed offer.
The cancellation of the rental agreement may involve a cancellation fee according to our current terms & conditions.
Short-term rental (1-4 days) and new customers: pick-up against prepayment, cash or debit card.
Operation
Bedienung vom Set-Sprinter Typ T2
Regalsystem:
Das Fahrzeug hat ein Regalsystem das je nach Bedarf auf- oder zugeklappt werden kann. Hinzu kommt noch ein großer Stauschrank in den bis zu 12 Plastik-Klappboxen Platz finden.
Damit die Biertische und Bänke sicher in dem Set-Sprinter befestigt werden können bauen wir bei Bedarf eine Ablage über den Radkästen an, auf denen diese mit Spanngurten gut befestigt werden können. Um den Laderaum voll ausnutzen zu können, werden die vertikalen Träger der Regalböden mit ein paar leichten Handgriffen entfernt.