Galerie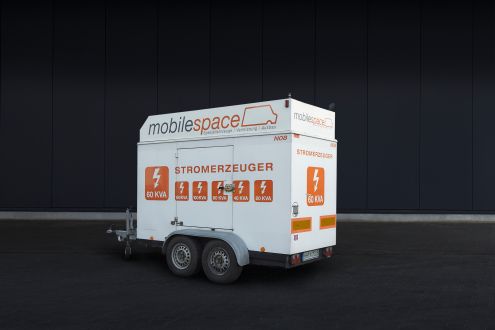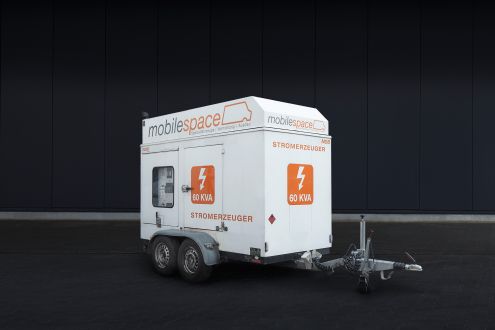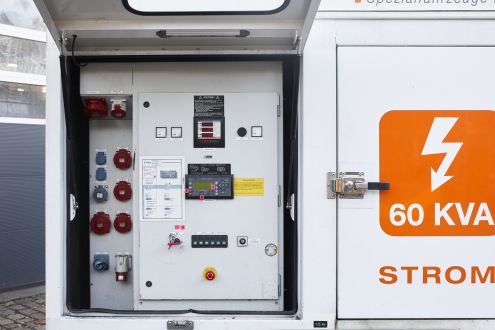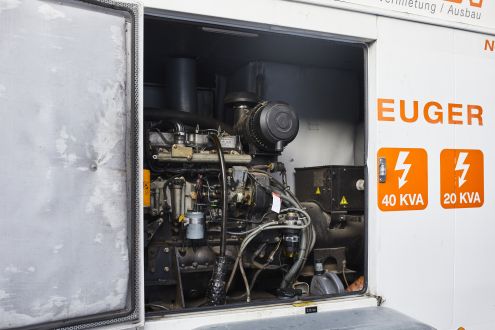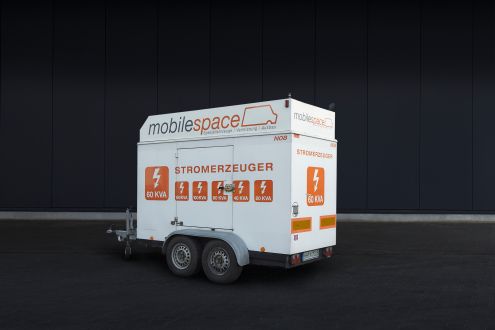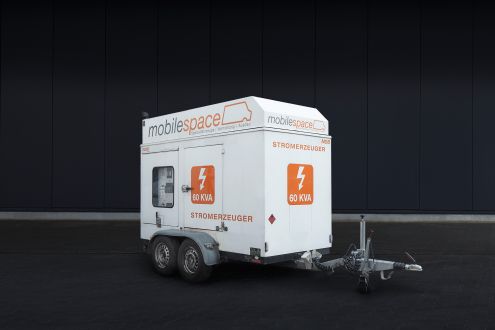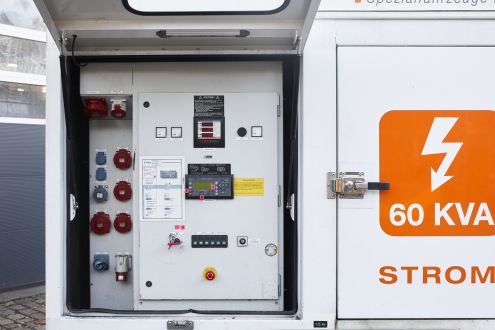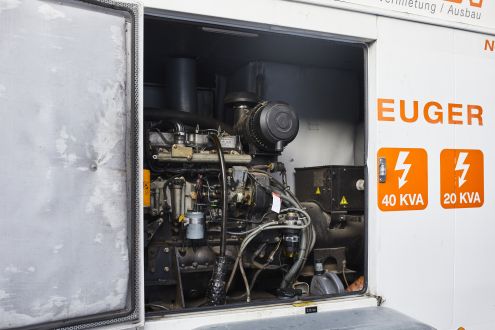 Vehicle group example images
N3 Generator trailer
63 kVA - without soot particle filter
Info
Our trailing generator N3 offers you a compact trailer with a lot of power, which is also sufficient for large film projects - for example, if you have particularly energy-intensive catering on site.
You can attach it to most of our vans. However, the high curb weight of 2.4 tons somewhat limits the choice of towing vehicles compared to the N1 category.
The generator's additional soundproof hood keeps the noise down, so you won't have to worry about complaints even in residential areas.
You think the trailer is great, but you don't have a driver with an appropriate driving license (BE) on your team? A European category BE driver's license can be obtained within three days and costs only a few hundred euros. Alternatively, our team of qualified drivers will be happy to help.
Technical info
Stromerzeuger Anhängeraggregat Typ N3
mobiler Stromerzeuger (60 kVA)
1-Achs-Anhänger Tandem 2,4 T
Generator Leistung: 60 kVA
Frequenz: 50 Hz
Kraftstofftank: 150 L
max. Betriebsdauer (PRP 75%): 10 Std.
Kugelkopfkupplung
1-Achser/Tandem
Ölauffangwanne mit Leckageüberwachung
Haube (Aluminium)
Schalldämmung = 53 dB(A)
LED Umfeldbeleuchtung (links/rechts/hinten) vom Schaltschrank schaltbar
Not-Ausschalter, Batterieschalter, Zustandsanzeigen komfortabel in Steuerung integriert
(u.a. Kraftstoffinhalt, Öldruck, Motortemp., Betriebsstunden-Zähler)
Anzeigen: 1x Spannungsmesser, 1x Frequenzmesser,
3x Strommesser, 1x Batterieladestrom, Voltmeter-Umschalter
Steckfelder:
3x  Schuko, 230 V
3x 16 A CEE, 400 V
2x 32 A CEE, 400 V
1x 63 A CEE, 400 V
 
ca. Abmessungen:
Länge 4,30 m / Breite 1,97 m / Höhe 2,30 m
zulässiges Gesamtgewicht: 2.400 kg
Rental info
Mietinformation - Kurzübersicht
Bitte beachten sie auch unsere akuellen AGB - alle Preise netto zzgl. 19% MwSt!
alle Fahrzeuge sind eigenversichert, die Selbstbeteiligung pro Schaden beträgt 1500,- €
eine Reduzierung der Selbstbeteiligung bis 400,- € ist möglich, Preise auf Anfrage
pro Fahrzeug wird eine Servicepauschale von 100,- € für Reinigung, Einweisung und Verbrauchsstoffe berechnet
Anlieferungen und Abholungen sind während der Geschäftszeiten Mo. bis Fr. von 8:00 bis 19:00 Uhr möglich
für alle Serviceleistungen außerhalb der Geschäftszeiten werden pro Einsatz 69,- € zusätzlich berechnet
alle Mietpreise gelten ab Standort Hamburg oder Berlin. Zustellung und Abholung werden gesondert berechnet
bei verspäteter Rückgabe von Mietzubehör wird dieses unverzüglich in voller Höhe berechnet
für die Rückgabe von nicht voll getankten Mobilen berechnen wir 25,- € zuzüglich Kraftstoffkosten
für die Weiterleitung von Strafzetteln berechnen wir 15,- € / Strafzettel
für unsere Servicetechniker berechnen wir 35,- € / Std.
pro Miettag sind 150 Km frei, jeder weitere Km wird mit 0,22 € /Km berechnet
eine Reservierung von Fahrzeugen kann erst erfolgen, wenn uns das schriftlich bestätigte Angebot vorliegt
bei Rücktritt von einem abgeschlossenen Mietvertrag können Stornokosten entstehen. Kosten siehe AGB
für Kurzanmietungen (1-4 Tage) und Neukunden gilt: Bezahlung per Vorkasse, bar oder EC Karte bei Abholung