Galerie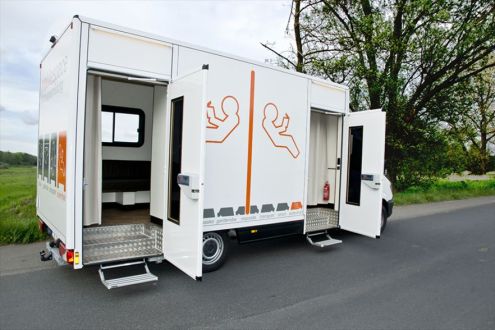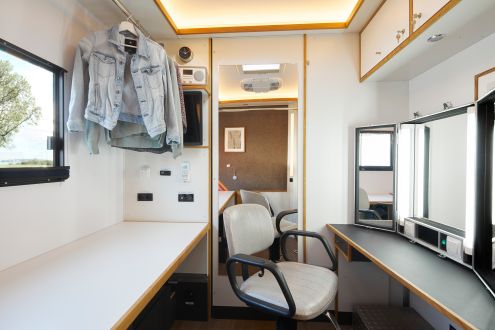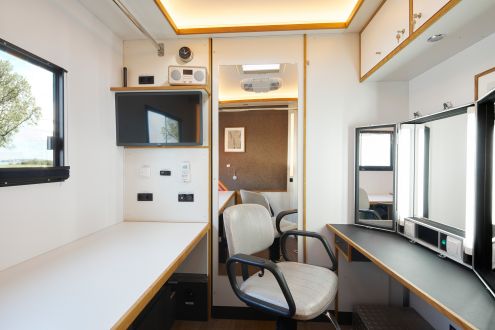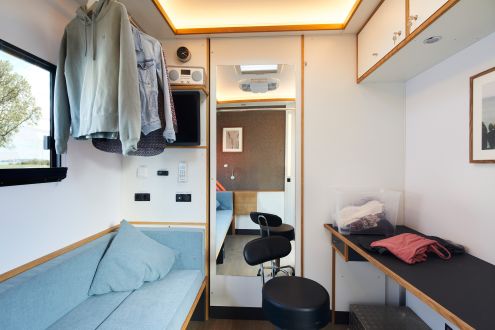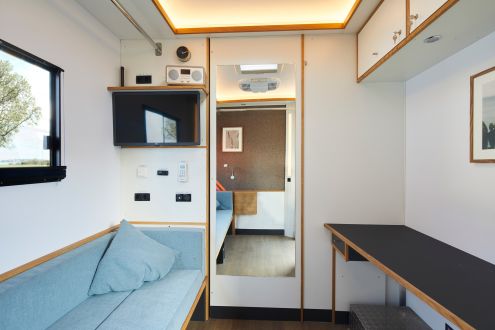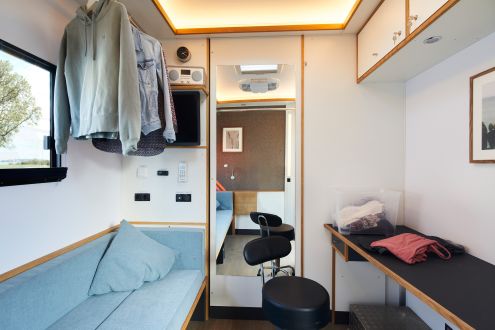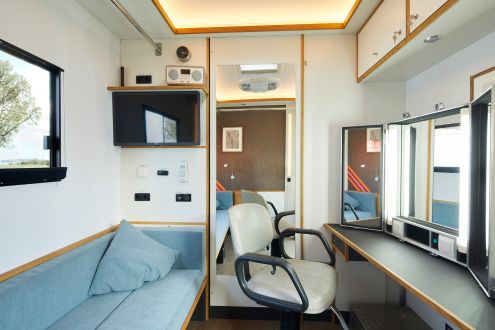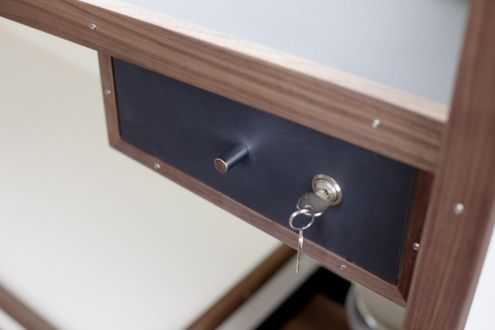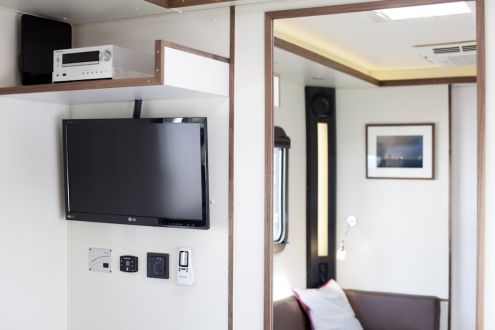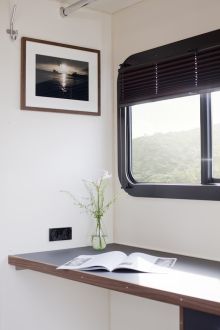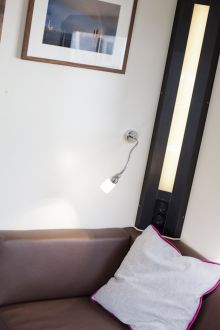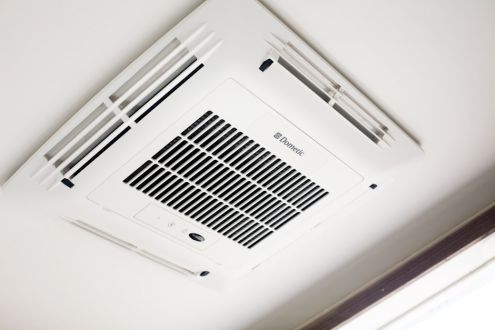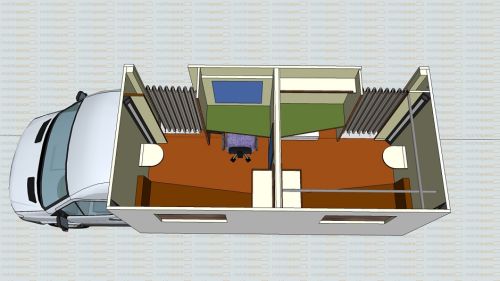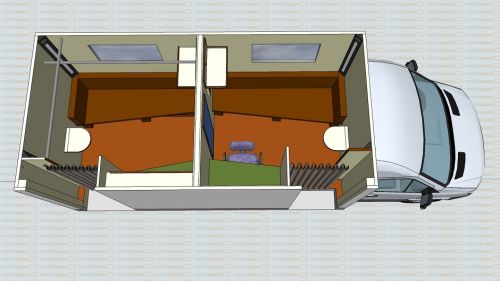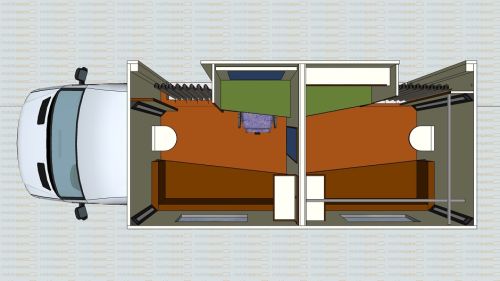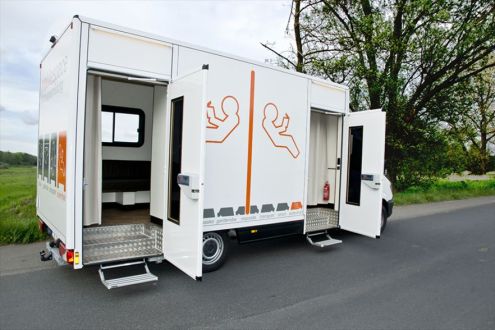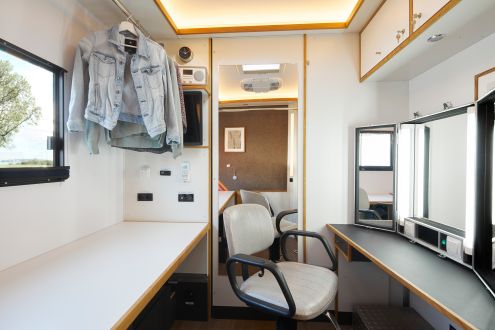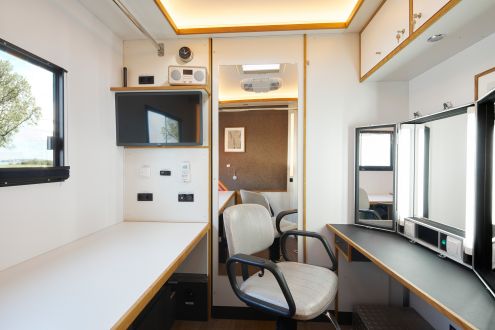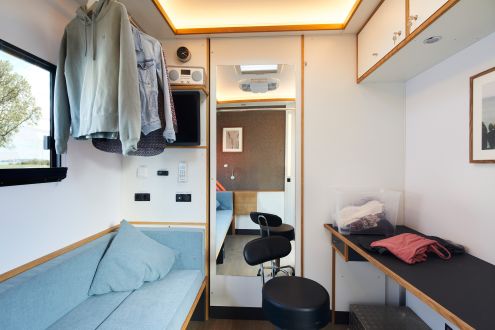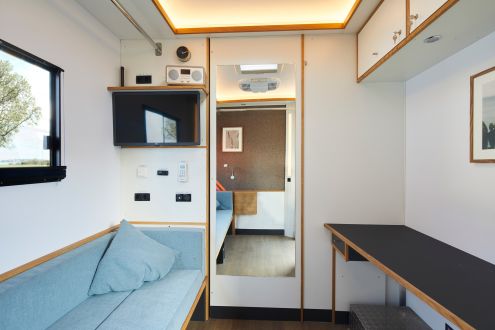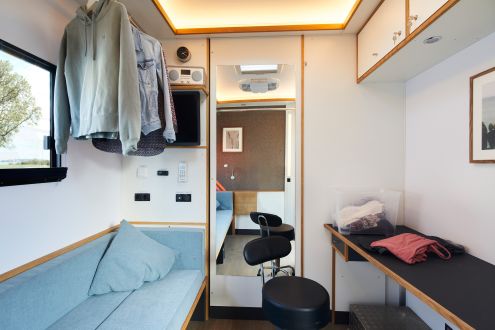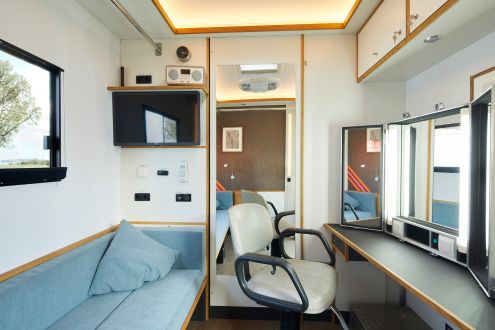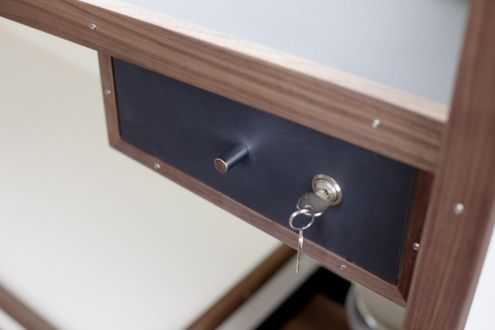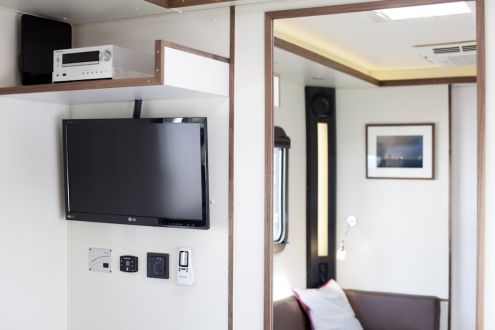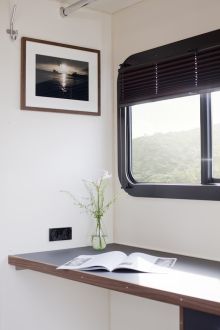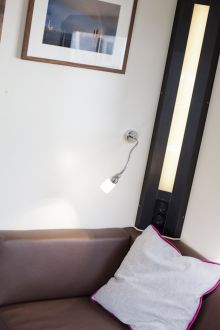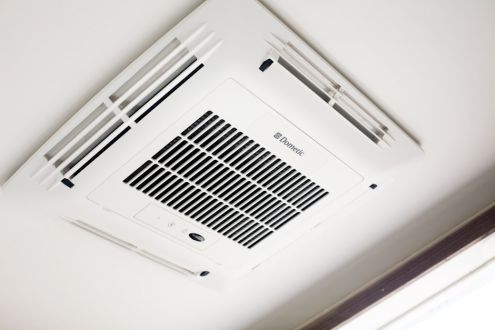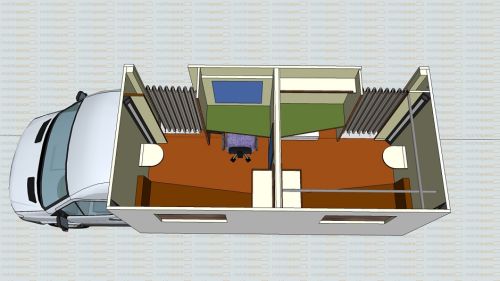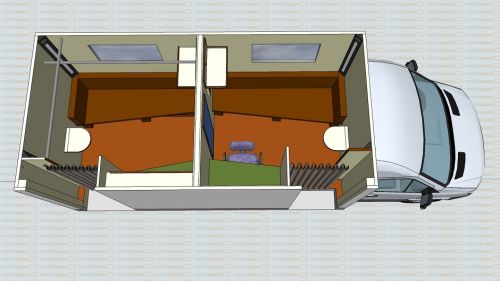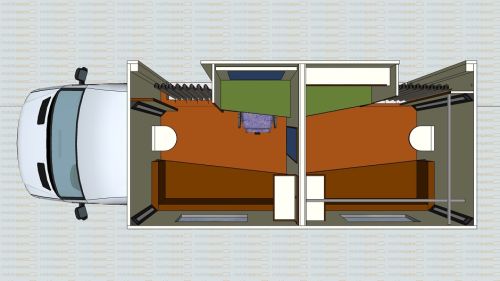 Vehicle group example images
Mix5 Doka Van
A lot in two: Make-up and wardrobe separated from the lounge space
Info
Our Combined Vehicle Mix5 consists of two rooms separated by a partition in the middle of the vehicle. One room is equipped with a small table with a make-up mirror and a pump stool as a standard, so you can apply make-up to models and artists. In both rooms, there is a sofa for up to two people and sufficient wardrobe rods. In addition, a small office workstation is available in each cabin.
No matter how you want to use the Mix5, thanks to the soundproof partition between the rooms, you don't have to worry about any noise from people working or talking on one side or the other.
The compact dimensions of the vehicle are perfect for flexible use in an urban environment. With a little luck, you can usually find a parking space in the street, even without having to apply for a temporary no-parking zone.
In this vehicle you are protected whatever the weather: In winter, the underfloor heating dries the damp floor and the auxiliary heating with fan ensures warm temperatures. When it's really hot in summer, you'll always keep cool with the air conditioning.
And if there is no electricity or generator nearby, that's no problem. The auxiliary heater, lights and the USB charging sockets will work for several hours even without an external power supply.
If you don't have the time, the necessary resources, or simply don't want to drive the vehicle yourself, we will deliver it and pick it up again at the end of the shooting. If you have different locations, we are happy to provide you with our experienced drivers for the entire shooting period.
Technical info
Mercedes Box Body/ Entrance at the Side
2x Ignition Keys/ 3x Cabin Keys
1x Driver Seat, 1x Front Seat
Car Radio w/ USB, AUX, MP3 & CD
Rear View Camera
16 A 360V Electricity supply (red), Caravan Plug for 220V Schuko incl.
Power Consumption between 300W (12V use) and 6000W (A/C, TV, Heating, Dryer, Laundry)
120l fresh-/ wastewater tank
Draining of tanks easy via vehicle floor faucet
total weight allowed 3,5t - Drivers License B
3kw gas or diesel Heating
Heating and Lights can be used up to 24hrs with battery

Dimensions
Length: 7,30 m / Width: 2,20 m/ Hight: 2,80 m
Cabin Dimensions
Length: 4,5 m / Width: 2,10 m/ Hight: 2,0 m
Features
many hooks and coatracks
big sofa bed for up to 3 persons
small drawer incl. lock
workstation incl. chair
full-body mirror
external heating
independent heater
underfloor heating (not all types)
HiFi incl DVD, AUX, USB
Flatscreen TV
cozy light system (LED)
many windows
Rental info
Rental Info - Short Version
Please note our current terms & conditions - all prices net + 19% VAT!
All vehicles are self-insured. The deductible per damage is 1500,- €.
Minimizing the deductible to 400,- € is possible - please ask us for the applicable conditions
Delivery and Pick-Up during office hours: Monday to Friday; 9 A.M. - 6 P.M.
All services outside normal working hours: 69,- €/ per service.
All rental prices based on pick-up/ delivery in Hamburg or Berlin.
Other locations are priced extra.
Service Charge for not fully refuelled Mobiles is 25,- € plus gas.
Service Charge for forwarding Tickets is 15,- €/ Ticket
Service Charge for Cleaning, instruction and usables is 100,- €
Service of our Technicians is 35,- €
Free mileage per rental day: 500km (staggered).
Additional mileage: 0,22,-€/ km.
The reservation of vehicles is final, when we have received the signed offer.
The cancellation of the rental agreement may involve a cancellation fee according to our current terms & conditions.
 
Short-term rental (1-4 days) and new customers: pick-up against prepayment, cash or debit card.
PDFComplete information
Operation
Für die Benutzung des Doppelkabiner Typ Mix5  ist zu beachten:
Winterbetrieb
Diese Mobil hat kein Wassersystem. Es besteht also keine Gefahr, das es einen Frostschaden gibt. Damit es in den Mobilen nicht kalt wird können zusätzlich zu den Standheizungen auch die elektrischen Heizungen angeschaltet werden. Damit wirklich jedem warm wird, geben wir zu jedem Mobil auch noch einen Heizlüfter mit. Alle Fahrzeuge sind natürlich wärmegedämmt.
Standheizungen
Die Standheizungen werden über Diesel angetrieben. Bei einer Diesel-Heizung erfolgt der Betrieb über den fahrzeugeigenen Dieseltank. Bei längeren Standzeiten an einem Ort (mehr als eine Woche) unbedingt regelmäßig den Füllstand des Tanks kontrollieren. Keine Angst: die Heizung schaltet sich bei niedrigen Füllstand aus, so dass das Fahrzeug auch weiterhin gestartet werden kann.
Die Standheizungen brauchen nicht nur Kraftstoff sondern auch Batteriestrom zum Betrieb (Lüftungsmotor). Wenn das Fahrzeug also etwas länger nicht am Stromnetz war, kann es sein das die Heizung nicht funktioniert. Hier hilft nur das Fahrzeug wieder an das Stromnetz anzuschließen. Dann lädt das Ladegerät die Batterie auf. Wenn sie voll ist kann die Heizung wieder gestartet werden.
Die Standheizungen können auch schon auf der Hinfahrt zum Set eingeschaltet werden, so dass das Fahrzeug schon warm ist wenn ihr am Set ankommt.
Beleuchtung und Elektrik
Das Fahrzeug ist mit einer 12V und einer 220V Elektrik ausgestattet. Wenn das Fahrzeug nicht an den Stromkreislauf am Set angeschlossen ist, können die Beleuchtung (nicht die Steckdosen!) und die Standheizungen für mehrere Stunden (ca. 24 Std.) über die interne 12V Batterie betrieben werden. Nach einiger Zeit muss das Mobil aber wieder an die Steckdose, damit die Batterien wieder aufgeladen werden (spätestens wenn nichts mehr geht). Das interne Ladegerät lädt dann die Batterien wieder auf. Da es eine Weile dauern kann bis die Batterie wieder geladen ist, bitte nicht wundern, wenn die Led-Beleuchtung, Standheizung und WC (Wasserpumpe) nicht sofort wieder funktionieren. Die Batterie ist mit einem Tiefenendladeschutz ausgestattet der verhindert das die Batterie beschädigt wird.
Wenn das Mobil an eine externe Stromquelle angeschlossen ist, funktionieren die Steckdosen, TV , HiFi Anlage, Heizlüfter, Ölradiatoren, das Ladegerät der Batterie und die Fußbodenheizung (wenn vorhanden). 
Anschluss und Sicherung (Elektrik)
Das Mobil wird über die Aussensteckdose (blau 16A) angeschlossen. Der Strombedarf liegt je nach Benutzung zwischen 300W und 3000W.
Das Mobil hat einen internen Sicherungskasten mit Fi. Wenn im Fahrzeug kein Strom ankommt (Steckdosen funktionieren nicht) dann liegt es meistens an einem defekten Anschlusskabel oder einem defekten Generator am Set. Bitte kontrolliert die Sicherungen im Sicherungskasten des Fahrzeugs. Sind alle Sicherungen drin, ist in den meisten Fällen ein Defekt am Mobil auszuschließen. Bitte kontrolliert dann die Sicherungen am Generator. Sind auch hier alle Sicherungen drin, könnte der Defekt am Kabel oder der Adapterkupplung liegen. Also als nächsten Schritt diese beiden Teile austauschen. Wenn dann immer noch nichts funktioniert, ruft uns an und wir kommen euch zu Hilfe. 
Fenster und Türen
Das Aufenthaltsmobil hat pro Kabine ein Dachfenster und pro Kabine ein bis zwei Seitenfenster. Bitte vor Fahrtbeginn oder beim Verlassen des Fahrzeugs immer darauf achten das diese fest verschlossen sind.
Da die Seitenschiebetür des Fahrzeugs bei vielen Mobilen nicht über die Zentralverriegelung verschlossen wird, vergewissert euch immer ob wirklich alle Türen zu sind, wenn ihr das Mobil verlasst.