Galerie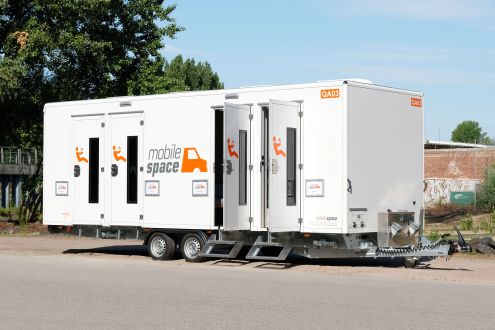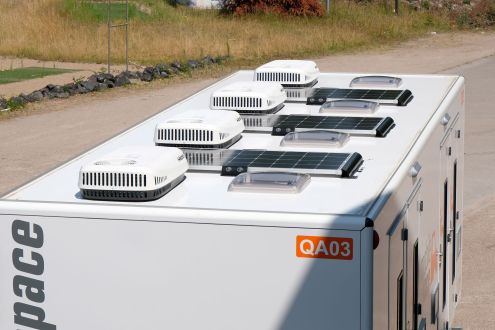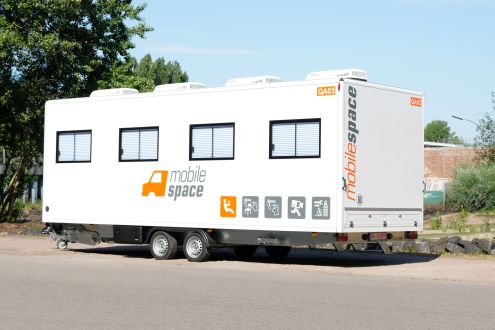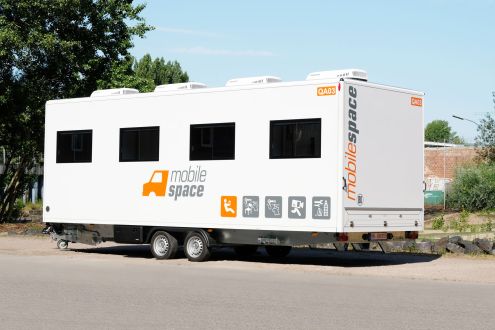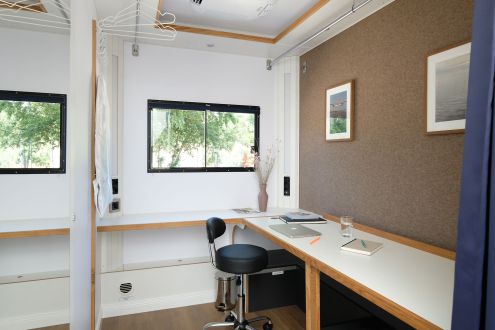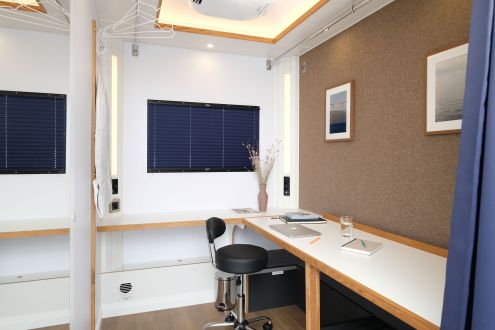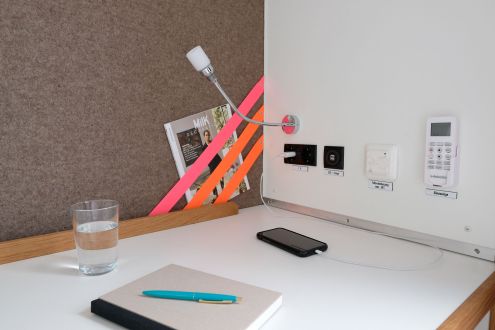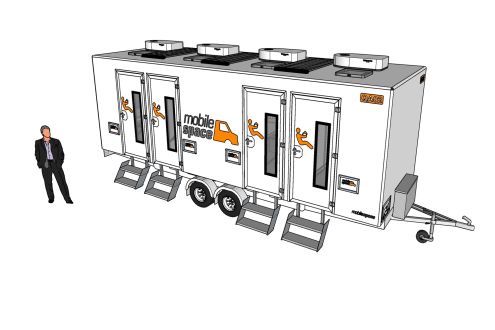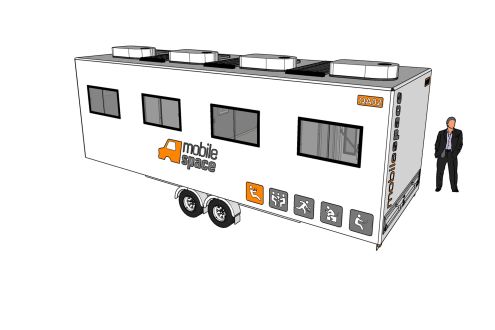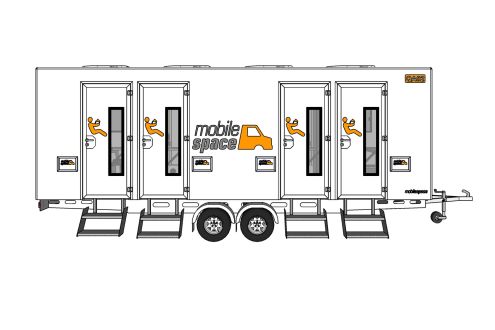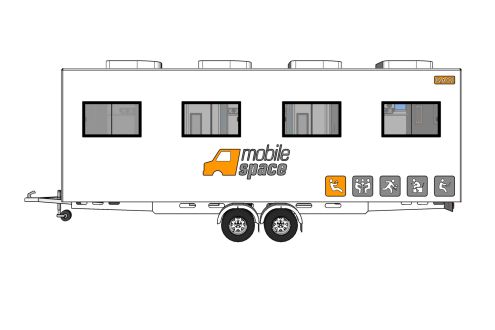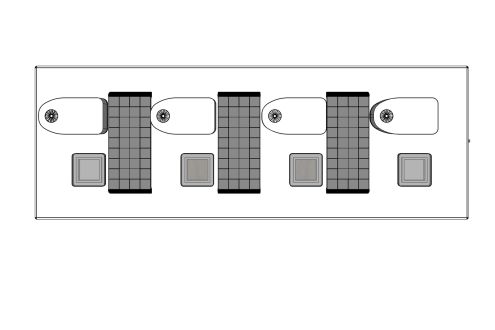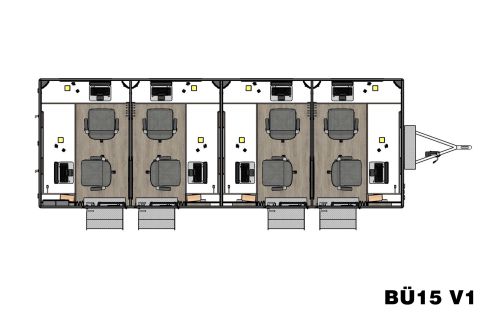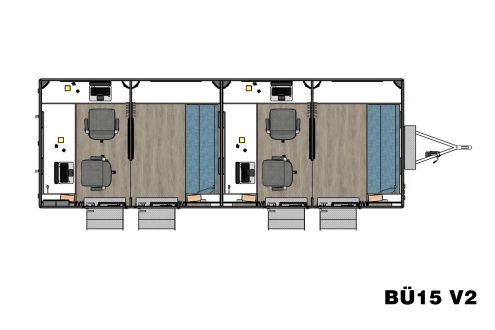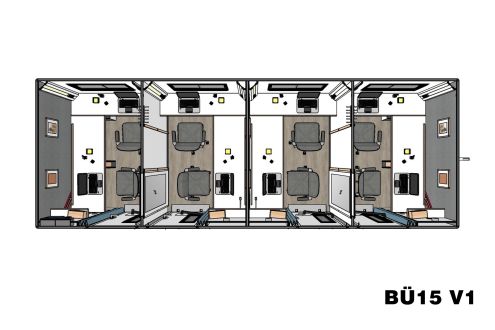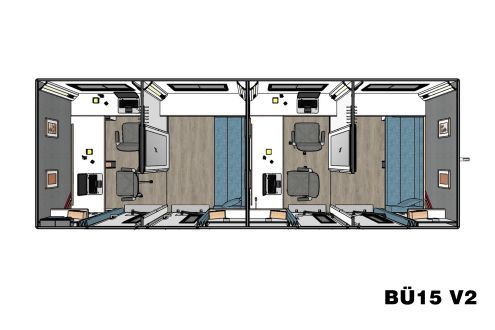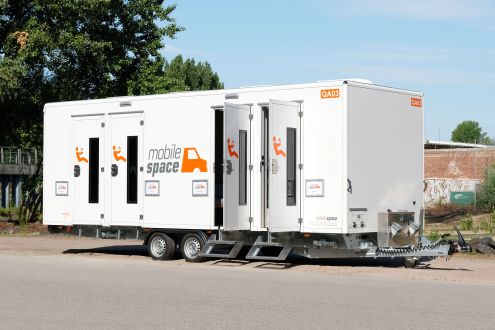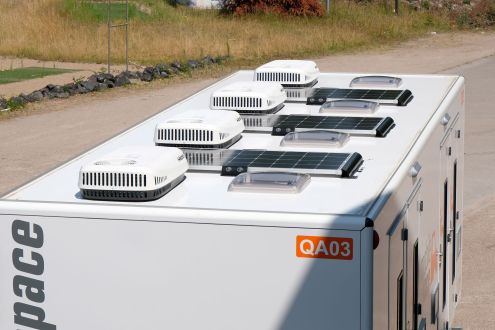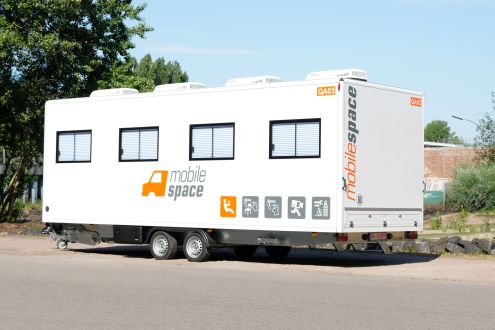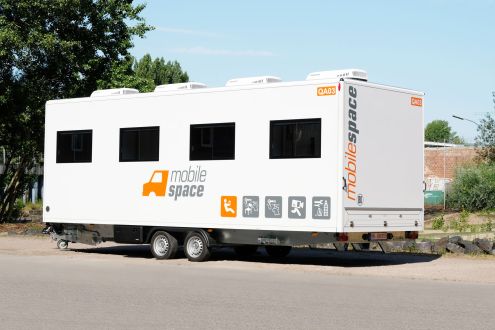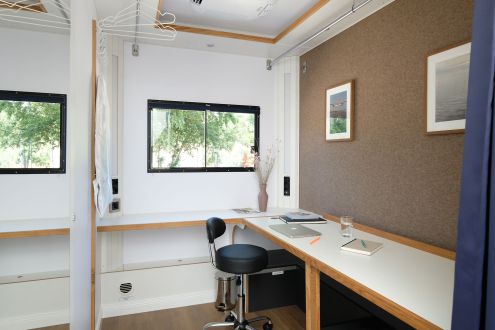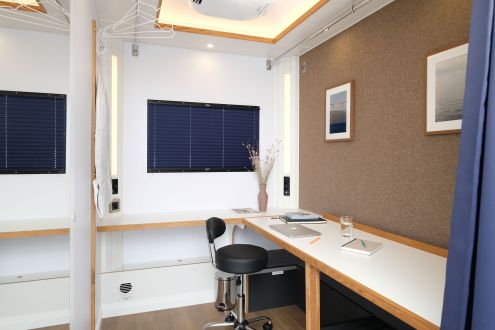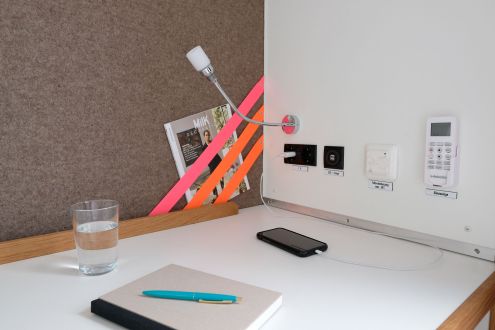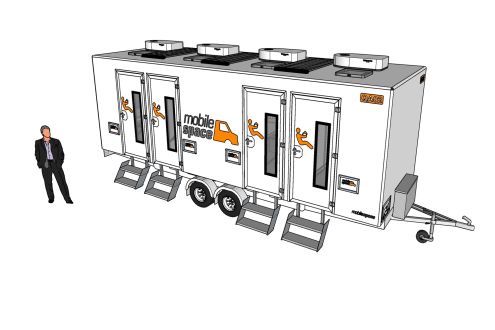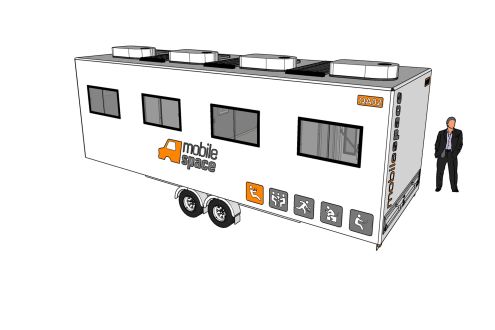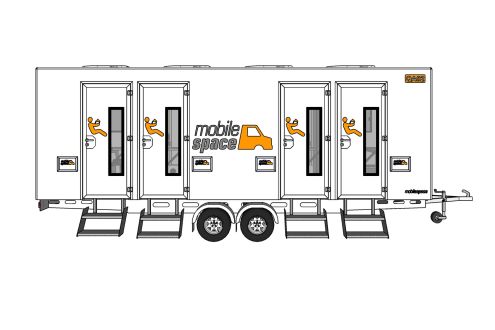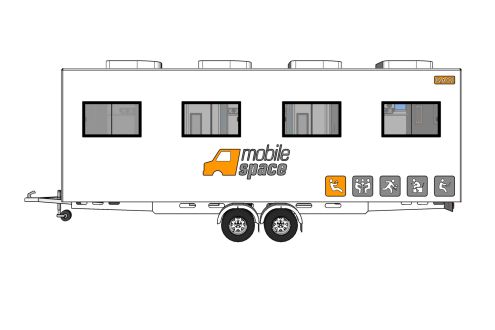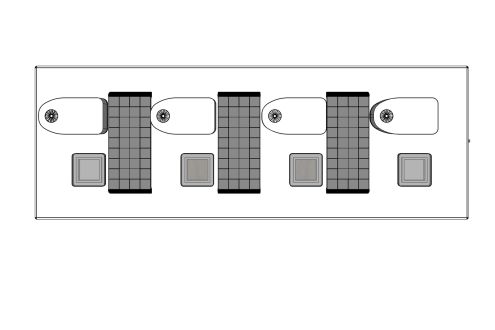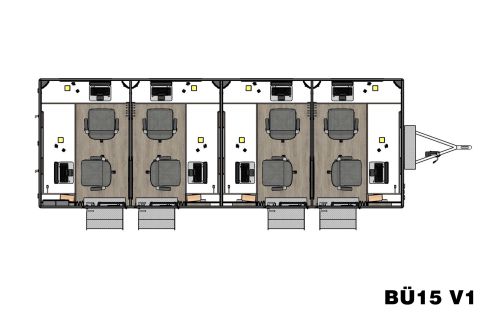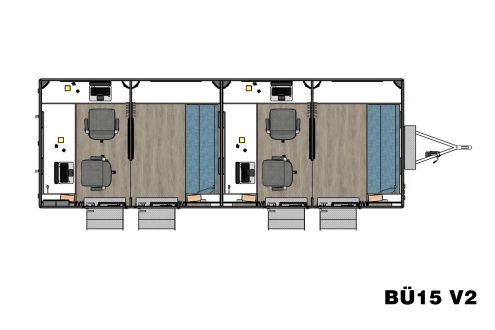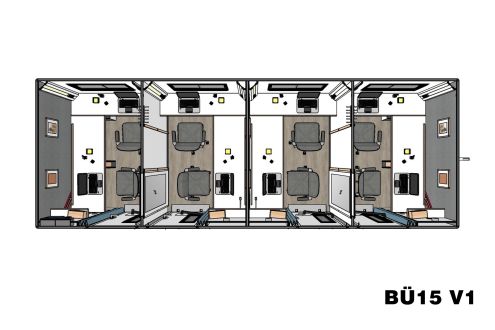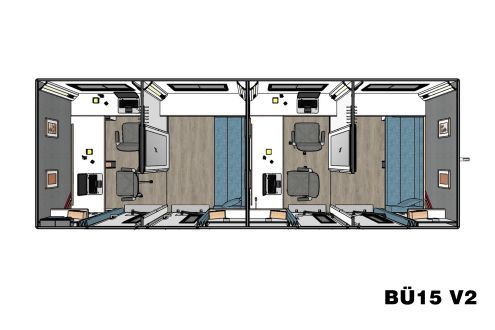 Vehicle group example images
Bü15 Quka-Solar-Production Office Trailer
You decide: two, three or four rooms
Info
In total, the vehicle provides you with up to eight office workstations in four cabins - equipped with a long table, Schuko and USB sockets, as well as office chairs. There are two lockable compartments per cabin for personal valuables such as watches, jewelry, or wallets.
Each cabin has its own entrance and is separated from the adjacent room by a soundproof wall.
If you need a larger space, you can easily create a passage between two cabins without tools. Do you want even more flexibility? With a few simple steps, the workstation can be transformed into a sofa or a bed.
Whatever the weather, you'll be protected in this mobile: In winter, the underfloor heating dries the damp floor and the auxiliary heater with fan ensures warm temperatures. When it's really hot in summer, you'll always keep a cool with the air conditioning.
And if there is no electricity or generator nearby, no problem. The auxiliary heater and lights work for several hours without an external power supply. Thanks to the photovoltaic system mounted on the roof, the battery is recharged when there is enough sunshine, so you can even do without a power connection altogether.
Technical info
QuKa Aufenthaltsanhänger mit 4 Kabinen
Technik
isolierter Kofferanhänger mit vier  Seiteneingängen
3,5 T zulässige Gesamtmasse, 100 Kg Stützlast
Führerscheinklasse BE, C, CE, C1 etc.
PKW Kugelkopfkupplung
Radkralle und Kupplungsschloss zur Sicherung gegen Diebstahl
8x Schlüssel für Eingang Aufenthaltsraum
16A 360V Stromanschluss (rot)
Betrieb von Licht und Heizungsanlage unabhängig über Batteriestrom für ca. 4 Std. möglich
leistungsstarke Klimaanlage und Dieselstandheizung für jeden Raum
Fahrzeugstützen zum Aufbocken des Mobils
Zubehör (wird bei Fahrzeugübergabe mitgegeben)
Verlängerungskabel (20m) oder Kabeltrommel
Kurbel für Fahrzeugstützen
Fahrzeugaussenabmessung
(Abmessungen können je nach Modell abweichen)
Länge: 8,60 m / Breite: 2,50 m / Höhe: 3,25 m
Innenraumabmessung pro Raum
4x Länge: 1,7 m / Breite: 2,40 m / Höhe: 2,20 m
Features
Quka - Büroanhänger mit 4 Kabinen
Ausstattung pro Kabine
viele Haken und Garderobenstangen zum Aufhängen der Garderobe
2 Fächer für Wertsachen mit Schloß zum verschließen
2 Arbeitsplätze - Schreibtisch mit Stuhl
Diesel-Standheizung
Fußbodenheizung
DVD HiFi Anlage mit AUX und USB Anschluss
gemütliche indirekte Ausleuchtung des Mobils durch LED-Stripes
viele große Fenster
Rental info
Mietinformation - Kurzübersicht
Bitte beachten sie auch unsere akuellen AGB - alle Preise netto zzgl. 19% MwSt!
alle Fahrzeuge sind eigenversichert, die Selbstbeteiligung pro Schaden beträgt 1500,- €
eine Reduzierung der Selbstbeteiligung bis 400,- € ist möglich, Preise auf Anfrage
pro Fahrzeug wird eine Servicepauschale von 100,- € für Reinigung, Einweisung und Verbrauchsstoffe berechnet
Anlieferungen und Abholungen sind während der Geschäftszeiten Mo. bis Fr. von 9:00 bis 18:00 Uhr möglich
für alle Serviceleistungen außerhalb der Geschäftszeiten werden pro Einsatz 35,- € zusätzlich berechnet
alle Mietpreise gelten ab Standort Hamburg oder Berlin. Zustellung und Abholung werden gesondert berechnet
bei verspäteter Rückgabe von Mietzubehör wird dieses unverzüglich in voller Höhe berechnet
für die Rückgabe von nicht voll getankten Mobilen berechnen wir 25,- € zuzüglich Kraftstoffkosten
für die Weiterleitung von Strafzetteln berechnen wir 15,- € / Strafzettel
für unsere Servicetechniker berechnen wir 35,- € / Std.
pro Miettag sind 150 Km frei, jeder weitere Km wird mit 0,22 € /Km berechnet
eine Reservierung von Fahrzeugen kann erst erfolgen, wenn uns das schriftlich bestätigte Angebot vorliegt
bei Rücktritt von einem abgeschlossenen Mietvertrag können Stornokosten entstehen. Kosten siehe AGB
für Kurzanmietungen (1-4 Tage) und Neukunden gilt: Bezahlung per Vorkasse, bar oder EC Karte bei Abholung