Galerie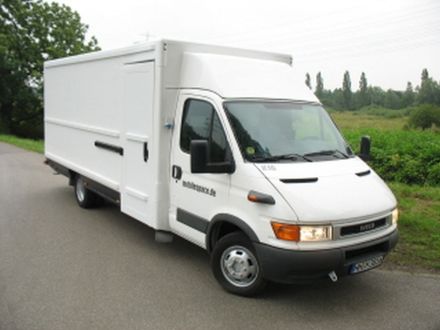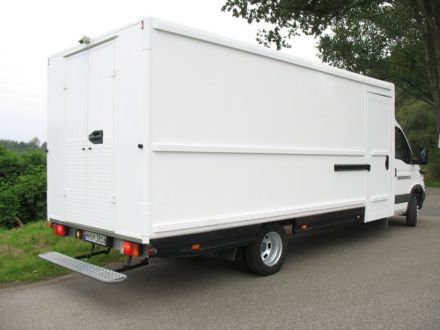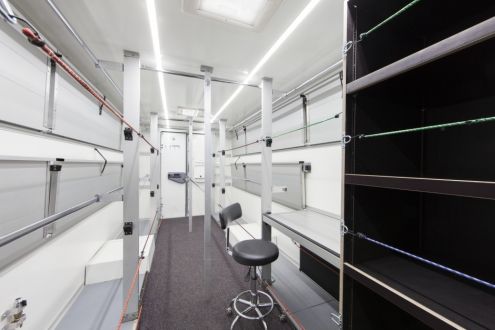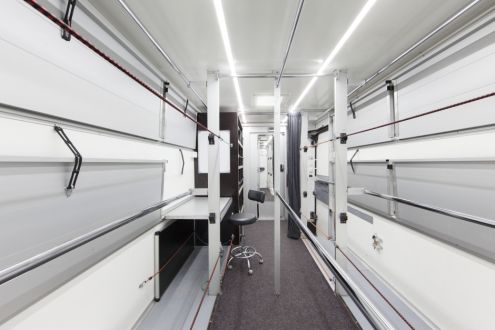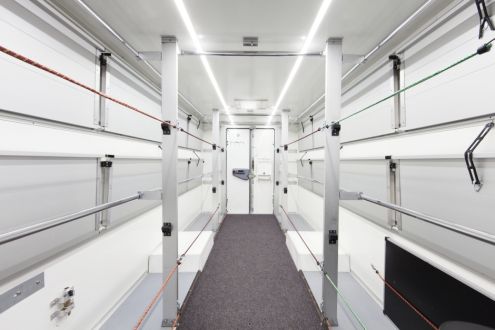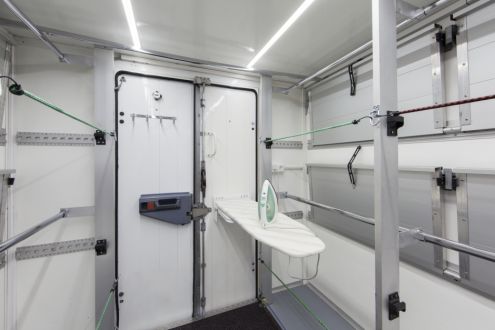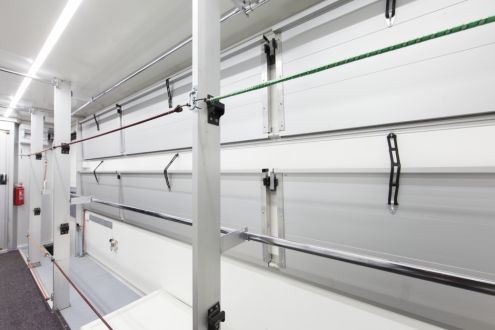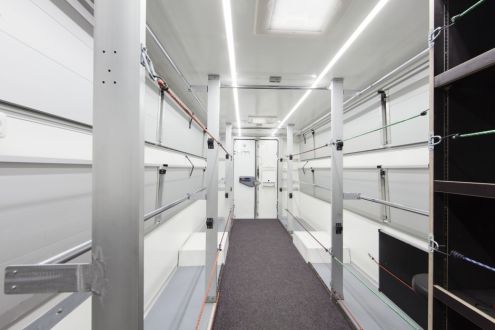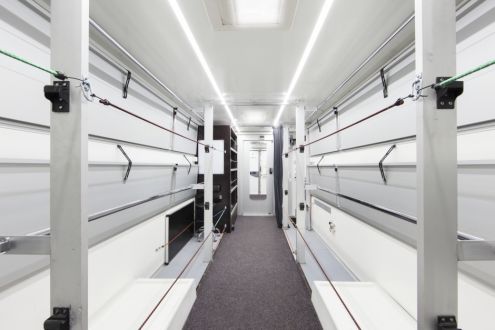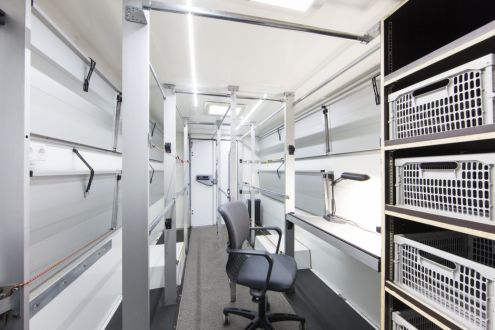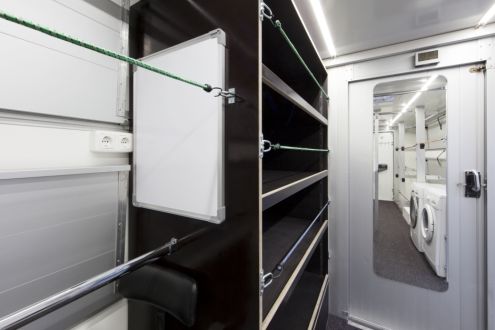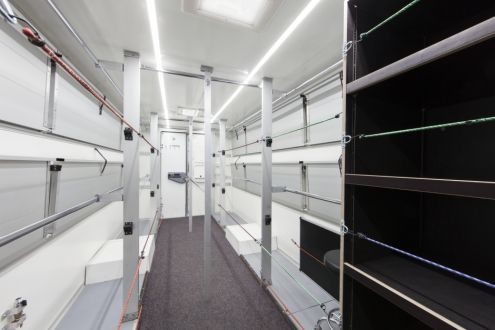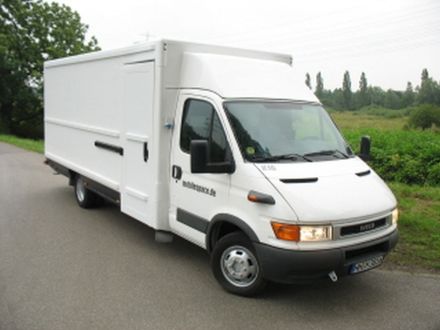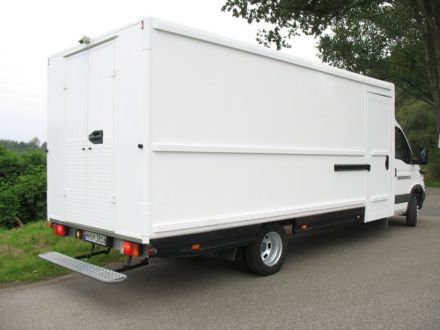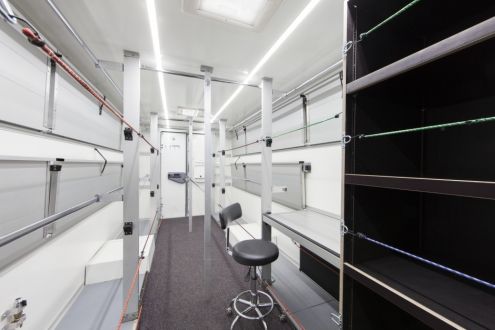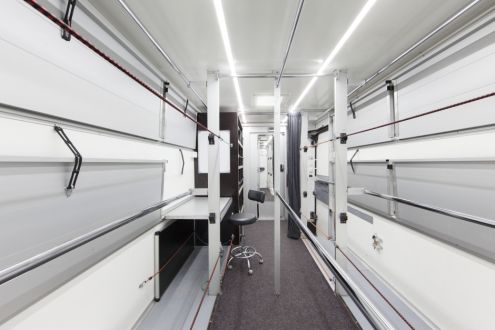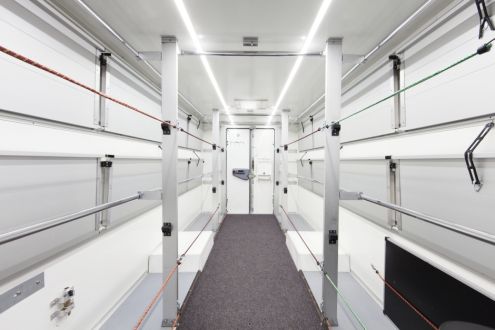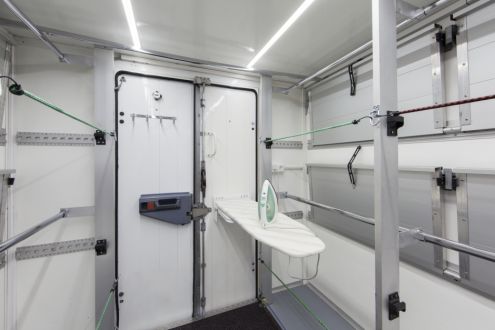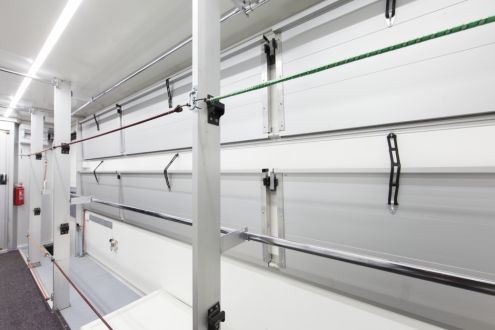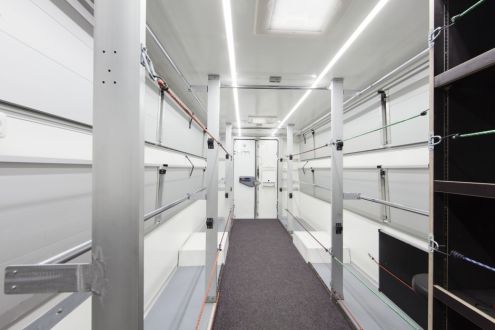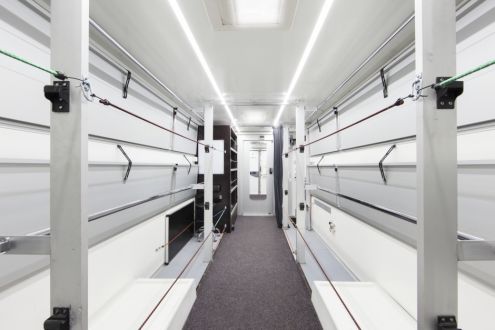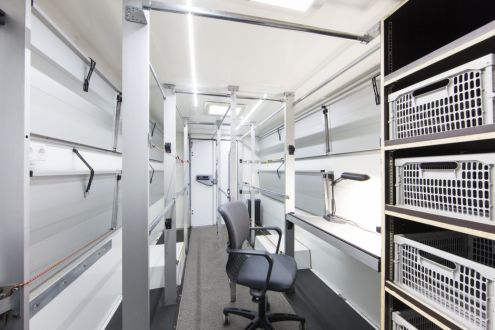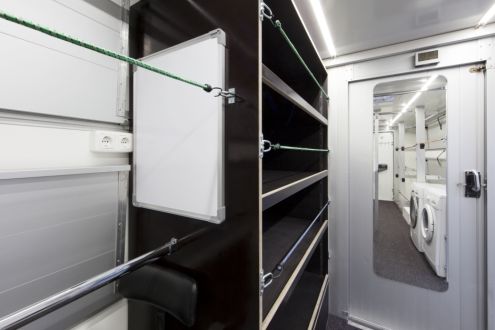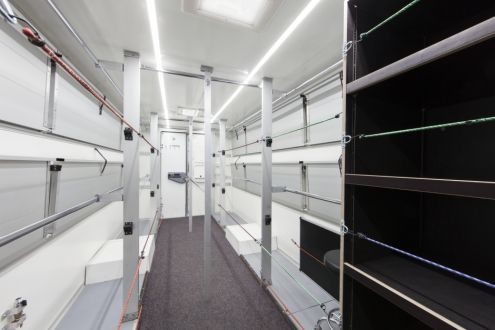 Vehicle group example images
G2 Wardrobe Van
Old, but huge
Info
The G2 is the oldie among our wardrobe vans - perfect if you have to work on a budget and your wardrobe staff can work well even without high-end equipment and water system. As successor models we have developed the G0 and the G1 for you.
Thanks to its exceptional length, this vehicle offers a lot of space for costumes.
Technical info
Mercedes Box Body/ Entrance at the Side
2x Ignition Keys/ 3x Wardrobe Keys
1x Driver Seat, 1x Front Seat
Car Radio w/ USB, AUX, MP3 & CD
Rear View Camera
16 A 360V Electricity supply (red)
Power Consumption between 300W (12V use) and 6000W (A/C, TV, Heating, Dryer, Laundry)
upon request we can install a washing machine (seperate, direct water supply needed!)
total weight allowed 3,5t - Drivers License B

Dimensions
Length: 8,10 m / Width: 2,20 m/ Hight: 3,0 m
Cabin Dimensions
Length: 5 m / Width: 2,10 m/ Hight: 2,0 m
Features
10m - 23m Coatrack
Middle-rack (3m)
large closet
magnet board
ironing board
small fold-up table
folding shelves
Full-body mirror
many 220V plug-sockets
LED Lights
220V Heater
many coat hooks
changing curtain (optional)
Washing-machine (optional, direct water plug needed)
Dryer (optional)
Radio system with USB, AUX & CD, MP3
Rental info
Rental Info - Short Version
Please note our current terms & conditions - all prices net + 19% VAT!
All vehicles are self-insured. The deductible per damage is 1500,- €.
Minimizing the deductible to 400,- € is possible - please ask us for the applicable conditions
Delivery and Pick-Up during office hours: Monday to Friday; 9 A.M. - 6 P.M.
All services outside normal working hours: 69,- €/ per service.
All rental prices based on pick-up/ delivery in Hamburg or Berlin.
Other locations are priced extra.
Service Charge for not fully refuelled Mobiles is 25,- € plus gas.
Service Charge for forwarding Tickets is 15,- €/ Ticket
Service Charge for Cleaning, instruction and usables is 100,- €
Service of our Technicians is 35,- €
Free mileage per rental day: 500km (staggered).
Additional mileage: 0,22,-€/ km.
The reservation of vehicles is final, when we have received the signed offer.
The cancellation of the rental agreement may involve a cancellation fee according to our current terms & conditions.
Short-term rental (1-4 days) and new customers: pick-up against prepayment, cash or debit card.
Operation
Für die Benutzung des Garderobenmobils Typ G2 ist zu beachten:
Waschmaschine und Wassernetz
Das Fahrzeug kann mit einer Waschmaschine und einem Wäschetrockner ausgestattet werden. Der Betrieb ist allerdings bei diesem Garderobenmobil nur über einen direkten Wasseranschluss möglich. Das erfolgt über einen Wasserschlauch mit Gardena Anschluss.
Der Abwasserschlauch kann über einen Bajonettverschluss direkt unter dem Fahrzeug angeschlossen werden, so dass das Abwasser abgeleitet werden kann.
Winterbetrieb
Der Winterbetrieb dieses Mobils ist nur ohne Waschmaschine möglich.
Die sehr leistungsstarke Diesel-Standheizung kann schon vor Drehbeginn auf dem Weg zum Set angeschaltet werden, so dass das Mobil zum Drehstart schön warm ist.
Beleuchtung und Elektrik
Das Fahrzeug ist mit einer 12V und einer 360V Elektrik ausgestattet. Die Beleuchtung und die Wasserpumpe  wird über die interne 12V Batterie betrieben. Sobald das Fahrzeug an einer externe Stromquelle angeschlossen ist, wird die Batterie über das Ladegerät geladen.
Der Füllstand der Batterie kann jederzeit über eine Led-Anzeige abgelesen werden.
Probleme mit der Elektrik
Das Mobil hat einen internen Sicherungskasten mit Fi.
Wenn im Fahrzeug kein Strom ankommt (Steckdosen und Leuchtstoffröhren funktionieren nicht) dann liegt es meistens an einem defekten Anschlusskabel, einem defekten Stromerzeuger am Set oder an der Benutzung der Adapterkupplung auf 220V Betrieb.  Wenn das Mobil über den 220V Schuko Adapter betrieben wird ist der Betrieb der Waschmaschine und des Wäschetrockners nur eingeschränkt möglich. Im Weiteren funktionieren nur einzelne Steckdosen. Sollte also gar kein Strom am Mobil ankommen geht bitte folgendermaßen vor:
Bitte kontrolliert die Sicherungen im Sicherungskasten des Fahrzeugs. Wenn eine Sicherung draußen ist, bitte alle Verbraucher wie Waschmaschine, Bügeleisen etc. aus den Steckdosen ziehen und die Sicherung wieder einschalten. Wenn die Sicherung drinbleibt können nun nacheinander die Verbraucher wieder in die Steckdosen gesteckt werden. Sobald wieder eine Störung auftritt ist wahrscheinlich das entsprechende Gerät defekt.
Sind alle Sicherungen drin dann ist in den meisten Fällen ein Defekt am Mobil auszuschließen. Bitte kontrolliert dann die Sicherungen am Stromerzeuger. Sind auch hier alle Sicherungen drin könnte der Defekt am Kabel oder der Adapterkupplung liegen. Also als nächsten Schritt diese beiden Teile austauschen. Wenn dann immer noch nichts funktioniert ruft uns an und wir kommen euch zu Hilfe.
Fenster und Türen
Das Garderobenmobil hat zwei Dachfenster. Bitte vor Fahrtbeginn immer darauf achten das diese geschlossen sind.
Da die hinteren Türen und die Seitenschiebetür des Fahrzeugs bei vielen Mobilen nicht über die Zentralverriegelung verschlossen werden, vergewissert euch immer ob wirklich alle Türen zu sind, wenn ihr das Mobil verlasst.